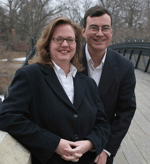 We recently stumbled across the web site for At Your Service, a "concierge and consulting service" here in the Capital Region.
We'd heard about these kinds of personal concierges in bigger cities, but we were kind of surprised to hear there was one right here. You know, this isn't Manhattan -- who doesn't around here doesn't do their own grocery shopping?
So, curious about the personal concierge business, we emailed a few questions to Pam Howard, who owns At Your Service with her husband Michael (that's them on the right). She emailed back answers about grocery shopping, four-day wedding planning and sniffing for cat pee.
How did you get started doing this?

About 3 years ago (after a 20 year career in the non-profit world) my husband and I were looking for a new opportunity that we could eventually do together. My husband wanted to start a consulting business, but I didn't see how I would fit into it.
Then one day he was getting his oil changed and read an article in a magazine about concierge services and how popular they were getting in big cities. He brought the article home and said he thought I would be good at this service. I agreed -- and we launched At Your Service in March of 2006.

After being an administrator and fundraiser, I used all my organization, PR, marketing, promotion, website, newsletter and networking experience and put it to work for AYS.
A concierge service... in Albany? Really?

YES! Albany, while not being HUGE, has lots of hard working stressed out people - especially in this economy. Who wants to drag the toddlers through Hannaford on Saturday morning when your groceries can be delivered and put away? As a state capitol, Albany has many high ranking state officials and attorneys all working late hours and traveling out of town for business. Up to now there was no alternative outside of calling a family member or a significant other to stop by the store, drop off the shipping or get the shoes repaired.

AYS currently services the entire Capital Region including Albany, Rensselaer and Saratoga Counties.
What types of things do you do?

Everyone has read about the high powered executives and their people. Imagine you now you have your own personal assistant.
A typical day for the concierge can include a call to deliver a high priority package across town for a corporate client, then stopping into a client's house to organize their home office, install an air conditioner and make sure the plants are watered, the mail is sorted and the house has a light on it. Then off to the Hannaford to fulfill a busy family's grocery list and making mom happy by finding their demanding child's favorite snack. Then to the dry cleaners, Target and Walmart to round out exactly what the clients would have to make several stops in their busy day dragging the toddlers behind or having to stop after work often after 8 pm delaying them even more from spending quality time with their family before doing it all again tomorrow.

We customize our services around what the client doesn't have time for or what is stressing them out. We sit around the kitchen table with them and often get "wow you can do all of this, I don't know where to start". After a few weeks, we are getting calls to get those packages returned to the store, plan a great children's birthday party and can you fix the wireless Internet, get us new Blackberry cases and find a graduation present for my nephew.

AYS does LOTS of grocery shopping - for both families and companies, dry cleaning, shoe repair, party planning, corporate courier, house and pet sitting, and home / office organization to name a few.

With the holidays coming we offer gift shopping, wrapping, shipping and delivery. We have also put up and taken down Christmas trees.
What kinds of people use this service?

This is not a service only for the well off. We do have some of those clients but the vast majority are busy professionals, often two income families that need to get their free time back. Attorneys, financial planners and fellow small business owners represent a large share of our clients because of the demands their jobs and the amount of hours they have to stay at the office.
We also work with small business owners and that often incorporates my husband's side of the business, which is consulting. The consulting service utilizes my husband's 24 years of experience in technology and marketing and applies this to solving business problems in marketing, technology and website development affordably without the need to have to hire employees.
We also work with corporations and helping them make their employees happy in this difficult economy. AYS helps companies with custom ordered breakfast and lunch service. We also help with employee birthday parties and corporate recognition. Our corporate customers enjoy us because we do the errands that normally they would have to send an employee out for which is not always the most cost effective use of resources. We will fullfill whatever niche is needed.
How expensive is it?

For companies this service is invaluable because it keeps their employees at their desks and not taking extended lunch hours to pick up the office supplies or the trophy for the event. We have hotel client's that our conference reader board service has saved them money plus given them better information and has allowed their sales staffs to do a better job increasing their conference business at their hotels.

For individuals, considering what people's free time is worth - we are not expensive at all. Base rates start at $30 for a quick (less than an hour errand) and $40 per hour after that. We also offer blocks of time at a discount that our repeat customers take advantage of.
What's the weirdest request you've ever gotten?

One of the biggest requests was to put a wedding together in four days! We were able to take care of the flowers, shoes, cake, a reception and dinner, all while keeping in constant touch with the bride. The year after, we were able to put together her 40th birthday party dinner at a local hotel...including handmaking the invitations, RSVPs, flowers, and personalized party favors. We had six weeks for that party.

And on a more humorous note - I have had to sniff the welcome mat while pet sitting to see if the cat had gone on it. I did have a moment of "what have I gotten into" that day!
This interview has been lightly edited.
photo: Pam and Michael Howard
Say Something!
We'd really like you to take part in the conversation here at All Over Albany. But we do have a few rules here. Don't worry, they're easy. The first: be kind. The second: treat everyone else with the same respect you'd like to see in return. Cool? Great, post away. Comments are moderated so it might take a little while for your comment to show up. Thanks for being patient.