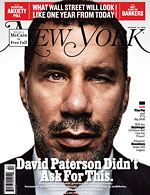 Next week's NY Mag has a long article about David Paterson (that's him, really close up, on the cover.) There are a lots of juicy tidbits in the piece: about his favorite Albany hangout, his dance moves, his dating life and why, as a kid, he hit another kid in the face with a lunchbox.
Here are some of the highlights:
+ The piece opens with a story about Paterson playing basketball -- and scoring on the wrong the basket. Says the Gov of his game: "Dramatic, but with not many great results ... I'm not shooting, I'm aiming."
+ He gets up at 5:30 am now, which apparently he hates.
+ Old favorite drink: amaretto on the rocks with a slice of lime. New favorite drink: merlot.
+ His favorite pet peeve: that he's "the accidental governor"
+ Story from school: he once hit a kid in the face with a metal lunch box after the kid made fun of him. He got suspended, but he says no one ever messed with him after that.
+ Signature dance move: the Mandinka hustle (yes, he made that up). It involved him doing a back flip and dancing on his hands.
+ Example of "creative" problem solving during his time working on David Dinkins' NYC mayoral campaign: buy a fifth of liquor everyday to get a problem staffer drunk.
+ When he was single, Paterson would juggle four women at a time.
+ He met his wife at a Temptations concert.
+ Throughout his career in the state Senate, people regarded him as unreliable -- so much so that staffers would be sent to his office to make sure he show up for things.
+ Favorite hangout a few years back: Elda's.
+ When he and his wife were separated, Paterson would sleep around and tell people to make sure his wife found out about it.
+ Among the perks he looked forward to as Senate majority leader: a personal shower in your office.
+ Eliot Spitzer reportedly considered RPI president Shirley Jackson as a potential running mate before picking Paterson.
+ One potential benefit Paterson thought could come along with being Spitzer's lieutenant governor: if Hillary Clinton became President, Spitzer might pick Paterson to take her spot in the US Senate.
+ Spitzer and Paterson went suit shopping together.
+ One of his former lovers was his aide while he campaigned for Hillary Clinton in Iowa.
+ It takes him 10 minutes to memorize 5 minutes of a speech.
+ Says one "party operative": "For all intents and purposes, [Paterson chief of staff] Charles [O'Byrne] is the governor."