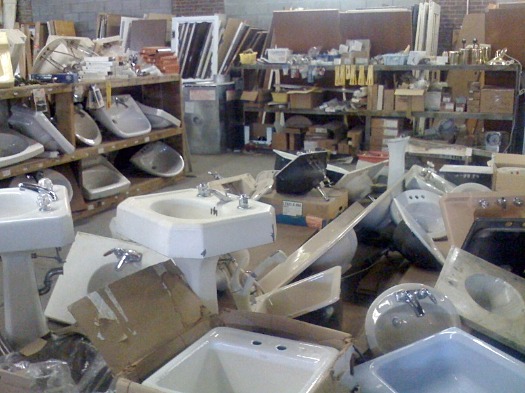 By Amy Brozio-Andrews
Like me, you've probably heard all about Habitat for Humanity -- you know, they build houses, help people find homes, keep Jimmy Carter busy. But I had no idea there's also a retail arm of the org -- a store called Habitat ReStore that sells new and used appliances, cabinets, tables and chairs, sinks and toilets, light fixtures, and building materials. There's one right here in the Capital Region on N. Pearl in Albany.
OK, but is there anything there you'd actually want in your house?
Well... that depends. Are you looking for substance or style?
At the Capital Region location, there are bins and bins of vintage wallpaper, some just plain old fashioned and others more kitsch than cool. But for $5 a roll, maybe you could learn to like chintz stripes.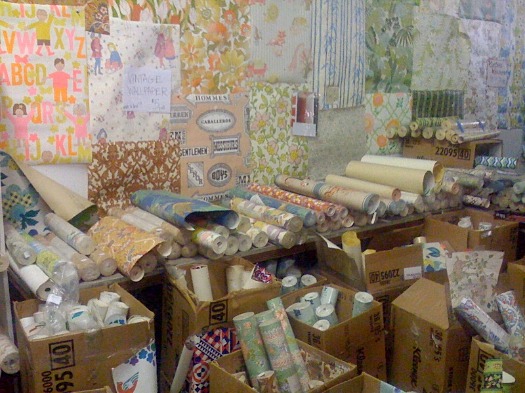 Stacks of interior and exterior doors are lined up against one wall, while a garden of sinks and toilets bloom in the center of the room. Ever wanted a urinal of your own? You can get one here, brand new from Kohler, and all yours for $50.
If you're looking for the basics on sinks and toilets and such, you can probably find something to make do with. You can find a sink for as little as $15. It may not match the rest of the bathroom, but it will work. It's also worth a look if you have an older home and want stuff that will blend in -- a small pedestal sink for a small bathroom, a old stainless steel double sink, maybe or an interior door that looks similar to what you already have.
There's a pretty good mix of new and used items. The cabinets are worth checking out; they're just about all in sets, instead of one-off pieces. There was a nice maple set for $400. Another set of white cabinets included the countertop and dishwasher (no sink base) was even less expensive. The only tough part is, what are the chances that someone else's cabinets are the right size for your kitchen? If you want to scope it out before committing to driving downtown, you can also usually find some Habitat ReStore items listed on Craigslist.
ReStore manager Emily Collins says most of the customers are first-time home buyers and landlords. Real do-it-yourselfers can pick up lots of bits and pieces, like paint, ceramic tiles, roofing shingles, and paving stones -- enough for odd projects and small jobs but not always enough for big home improvements. (Unless you're really into terra cotta ceramic tile; last week, Habitat ReStore received a donation of about 10,000 square feet of terra cotta ceramic tile, 6 tiles/box, $6/box.)
You really have to plan ahead before you go, and it's best not to set your heart on finding a particular item -- the store relies on donations from homeowners and local businesses so you never know what you're going to find. If you've got something to donate, Habitat ReStore will pick it up -- call 275-6638 for more information.
The ReStore folks don't do formal inspections on this donated merchandise, but if you buy something like a stove, and it doesn't work, you can return it for store credit. Otherwise though, there are no returns or exchanges. In other words, don't forget your tape measure.
The hours are limited, Fridays and Saturdays from 9:00 a.m. to 2:00 p.m. At noon on a Friday, the store was pretty busy. It's all on-street parking and they don't deliver, so keep that in mind when you're shopping -- you can't buy it if you can't get it home.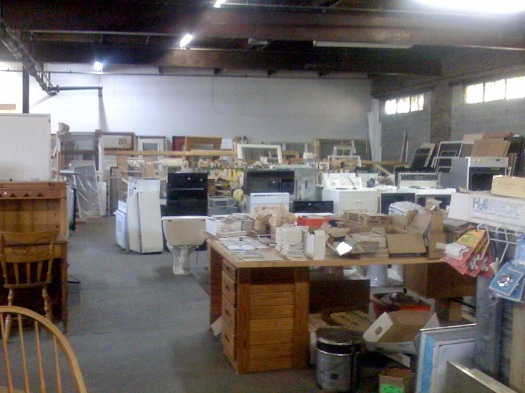 Find It
Habitat ReStore
454 North Pearl St
Albany, NY 12204
Open Friday and Saturday 9 am - 2 pm
(518) 275-6638
Hi there. Comments have been closed for this item. Still have something to say? Contact us.