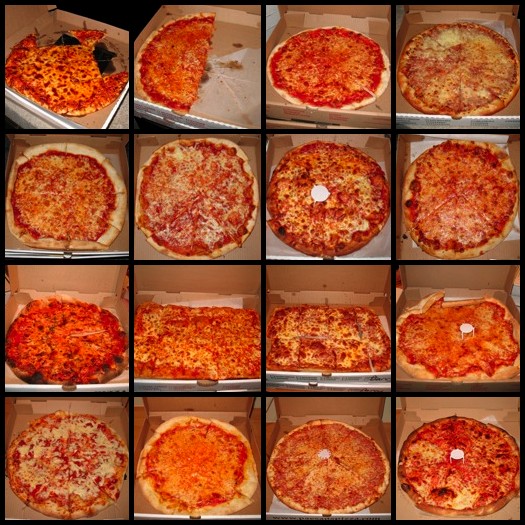 It seems like there's pizza a place on every other corner in the Capital Region. And for every one of those pizzerias, there are probably about 20 opinions about which one is the best. Pizza everywhere x 20 = a whole lot of talk about pizza.
Well, we can talk about which place in the Capital Region has the best pizza, or we can actually do something about it (mainly, eat a bunch of pizza). We've chosen the latter. So let us introduce the Capital Region Tournament of Pizza.
What, you may ask, is the Tournament of Pizza?
Well, it's a tournament. Of pizza. Here's how it works...

AOA has picked sixteen pizzerias from around the Capital Region and placed them in four brackets: Saratoga, Schenectady, Troy and Albany. (Only 16? Yep, a lot were left out -- we had to draw the line somewhere. You're welcome to disagree in the comments, of course.) These pizzerias will "play" each other in a series of "matches" to deterimine the region's best pizza. It's kind of like the NCAA basketball tournament, but, you know, for pizza.
How do we determine winners? We have panel of three judges (more on them tomorrow) who will the taste the pizzas in a blind side-by-side comparison and vote for the one they like the best. Each round will have a different theme. Round 1 is plain cheese, Round 2 is pepperoni, and so on.
Check out the bracket for the whole tournament.
Here's how the brackets shape up for Round 1:
Saratoga Bracket
Marino's vs. D'Andrea's
Broadway Pizza vs. Caputo's

Schenectady Bracket
Scotti's vs. Home Style
Fireside vs. Pizza King

Troy Bracket
DeFazio's vs. Red Front
I Love NY vs. Knotty Pine

Albany Bracket
Paesan's vs. Pasquale's
Sovrana vs. Inferno

Round 1 starts tomorrow with the Saratoga Bracket.
Anyone care to handicap this competition?
Hi there. Comments have been closed for this item. Still have something to say? Contact us.