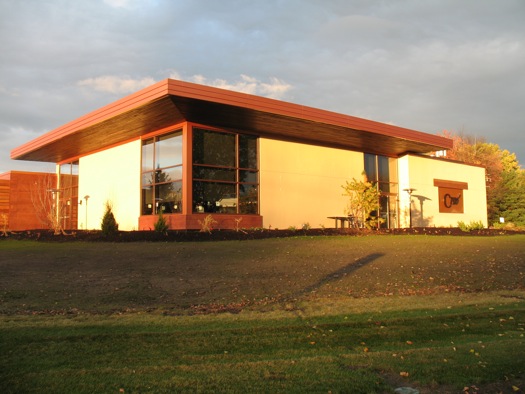 After hearing all the hype, we were curious about Creo and figured you might be, too. So we stopped by for dinner last night on the first day it was open to the public.
First off, the restaurant seemed to be running remarkably smoothly for a place that literally just opened. We encountered one or two very minor hiccups, but they weren't anything you wouldn't see at restaurant that had been open for years, never mind hours. This probably shouldn't be a surprise. The management group behind the restaurant has plenty of experience.
Creo's space is warmly modern in a way that reminds us of the West Coast (something about all the wood and subtle Asian influences). We could see it being kind of noisy when full. One weird thing: there are what look like fluorescent lights that ring the main dining space. As the sun went down and the interior lighting took over, these lights gave off a cold, flat light that was not flattering. We understand that this is a "green" building -- and that's great -- but does saving the Earth have to mean bad light?
One other first impression: the prices are actually pretty reasonable (see our annotated receipt). We were happy to see this because it seems like one of the recent local restaurant trends has been to go expensive -- whether it be locally-owned (Brown Derby) or chain (Melting Pot).
OK, on to the food. We stuck more to the appetizers and smaller plates. Some of the big plate entrees looked good, but we figured we'd try them another time.
Small plates
Housemade potato chips with bleu cheese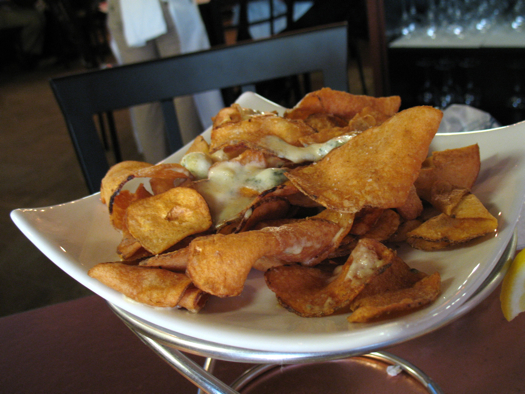 They were very crunchy and the bleu cheese melted on top of them went along very well. These chips would make a great snack for a group of people having drinks.
Chipotle-glazed rotisserie chicken quesadilla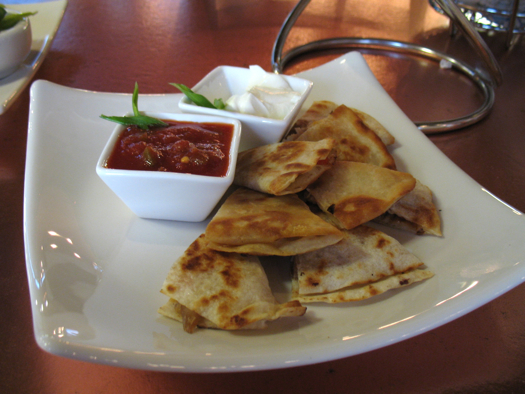 The chicken was smoky, with a little heat and a slight touch of sweetness. It was fine, but not necessarily something we can't wait to have again.
Risotto hush puppies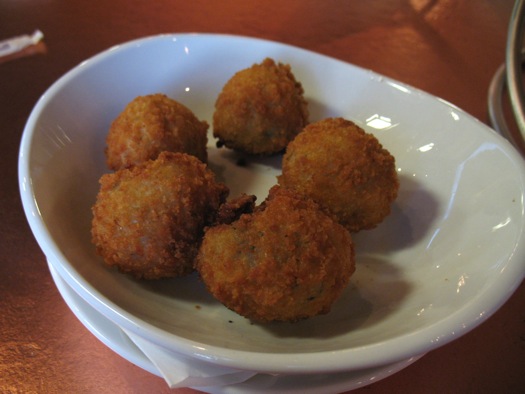 These were technically a "side dish" and not a "small plate." They were also disappointing, which is too bad because we were really looking forward to them. The crust was nice and crunchy, but the risotto on the inside just wasn't creamy enough. We'd pass on these next time.
Pizza
Fig pizza with caramelized onions and balsamic vinegar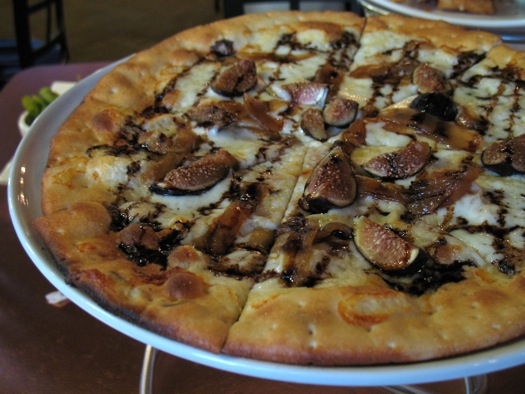 We liked this a lot. The figs' jammy sweetness worked with the richness of the onions and the tanginess of the reduced vinegar. We're not totally sold on the crust, though. It was very crispy, which was fine with the toppings, but the crust at the edge was almost a little too hard -- like some kind of tough cracker. On the whole, though, the pizza was very good. And, hey, if you like a really crispy crust, you'll probably love it. We'd get this again.

Dessert
Pistachio chocolate paté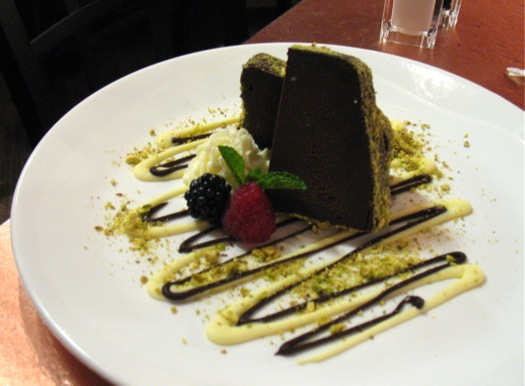 Chocolate paté? Sure. It tastes a lot like a chocolate truffle loaf, rolled in crushed pistachios and then sliced. It is very rich. The serving was too two slices, which is probably a lot for one person. This is definitely a share-it-with-someone dessert. And you should, because it was really good.

Apple dumpling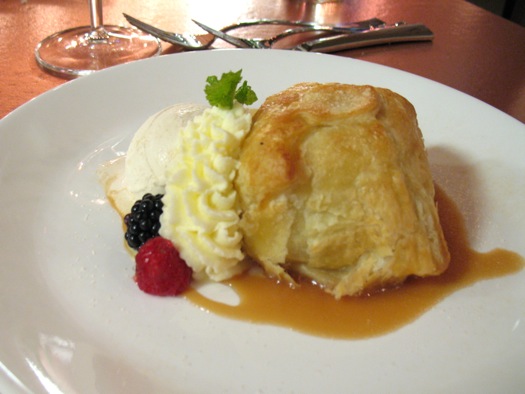 This was a whole, cored apple wrapped in a pastry shell. It was kind of average. But it came with some great cinnamon ice cream. We would have been happy with just a dish of the ice cream. Creo makes its own ice cream and sorbets -- we'd try those the next time we have dessert there.
The Bottom Line
We enjoyed our first visit to Creo -- and we're happy to have it as an option. We thought it was pretty good for a place that just opened. That said, it's not like we can't wait to go back.
Find It
Creo
Stuyvesant Plaza
Albany, NY 12203
(518) 482-8000
Hi there. Comments have been closed for this item. Still have something to say? Contact us.