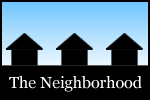 Among the topics in this most recent spin around the Capital Region's online neighborhood: the death of Richard Bailey, customer service, Thanksgiving, Korean food, librarians and Buffy.
TQL has some thoughts on the death of Richard Bailey -- she lives just a few blocks from the scene of the shooting. If you read anything from the Neighborhood this week, read this.
Kristi's looking for your stories about good (and bad) local customer service.
Steve's pulled together info on what local restaurants have cooking on Thanksgiving: The Desmond, The Inn at Erlowest (Lake George), Glen Sanders Mansion, Chez Sophie.
Love Korean food? Celina's found a great place.
It sounds like Laurie's fire inspector was inspecting her a little bit, too.
And Matthew's posted a song inspired by Buffy the Vampire Slayer (TV version, of course).
There's a lot more going on around the Neighborhood, check it out. We just added Naomi's blog about de-cluttering her life. If you know of another great blog we should include, post a comment or send us an email: editors |at| alloveralbany |dot| com.
Hi there. Comments have been closed for this item. Still have something to say? Contact us.