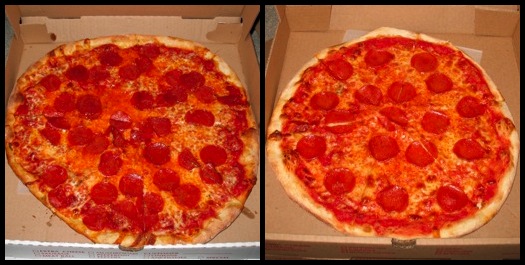 The Tournament of Pizza returns to Saratoga for the opening of the second round. This time around, we ordered pepperoni pizzas. The scoring works the same way. After a blind side-by-side tasting, the judges vote on their favorite -- most votes wins.
Here's how we got here. In Round 1, D'Andrea's edged out Marino's 2-1 on the strength of its "very thin, crisp crust." And Caputo's beat out Broadway Pizza 2-1, though the judges didn't seem too impressed with either competitor.
OK, let's taste some pizza!
D'Andrea's
2
Caputo's
1

Post game: Neither pie seemed to totally win over the judges. But D'Andrea's pulled to victory on a consistently crisp crust that held up to the extra grease from the pepperoni. The judges also seemed to prefer the D'Andrea's pepperoni, which one judge described as "spiced well" and another as having "lots of fennel flavor." Caputo's left the judges a little cold. One judge wrote that it was "kind of flat compared to [D'Andrea's]." Another judge detected "a bit of a raw flour taste" in the Caputo's crust.
So downtown Saratoga tops the suburbs in this round. D'Andrea's moves on to face the winner of the Schenectady bracket in the semi-finals.
Tomorrow in the TOP: Pizza King takes on Home Style for Electric City bragging rights.
Hi there. Comments have been closed for this item. Still have something to say? Contact us.