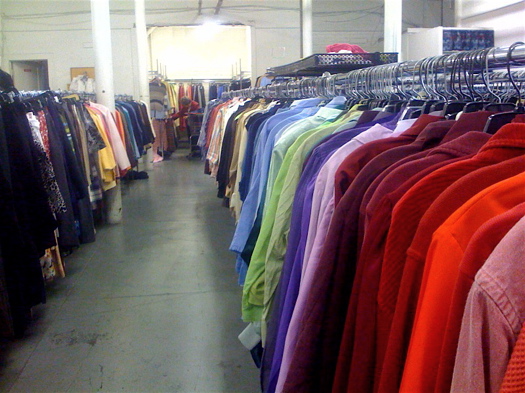 By Amy Brozio-Andrews
So I received an email from a friend recently who suggested I check out the Salvation Army Thrift Store on Clinton Ave in Albany for real bargains on clothing (thanks, Elissa!). I got the impression that Goodwill was for amateurs and the Salvation Army was where it's really at.
And wouldn't you know it, she was right...
The Salvation Army Thrift Store is pretty big and really well organized. Like other thrift shops, the clothing is organized by type (jeans, shirts, blouses, sweaters) and then color. Shopping here is really efficient, though, because all items are tagged with a price and a size -- no need to fumble through every pair of jeans looking for one that might be your size, you can just skim the racks quickly and not worry that you're missing the one pair of pants in your size.
There's no uniform pricing; everything is priced individually -- prices are about on par with other thrift stores I've been to -- and no price ticket, no sale. The inventory includes a lot of clothes (men, women, children, plus sizes). There are also blankets, drapes and curtains; furniture; televisions; lamps; glassware and collectibles; books and records (boxes and boxes of records!); toys; shoes; purses; stuffed animals; mattresses; and accessories like scarves and belts.
Most of the items for sale are only gently used. New items are marked as such. Kids' clothing doesn't include the size on the price ticket, just the letter "K."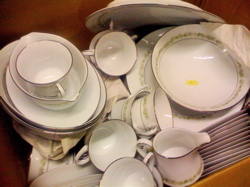 Some of the more interesting items I found:
+ one 51-piece set of china for $24.99
+ old commemorative prom glasses for a buck or two (if you went to the Mercy High School Junior/Senior prom on May 19, 1989 or the Albany High School senior prom (themed "Reflections") on June 10, 1978, you're in luck)
+ a pair of women's flannel-lined jeans from LL Bean for $7.99
While I'd probably skip the furniture, mattresses, and electronics, The Salvation Army has a lot of name-brand clothing. Their women's and their kids' clothing selection is especially excellent. I bought a girl's Baby Gap dress and a pair of Osh Kosh pants for $1.50 each plus a girl's Old Navy sundress for $2.
When planning your trip, be aware that there's on-street parking only. All sales are final (no returns or exchanges, although things like televisions are tested first to make sure that they work before you buy them). And Wednesday is family day, 50 percent off the ticket price on clothing except that week's incoming color (so this week, it was 50 percent off everything except yellow-ticketed items).
Shop on, bargain hunters!
The Bottom Line
The Salvation Army Thrift Store in Albany is well-organized. And it has some great deals on women's and kid's clothing.
Hi there. Comments have been closed for this item. Still have something to say? Contact us.