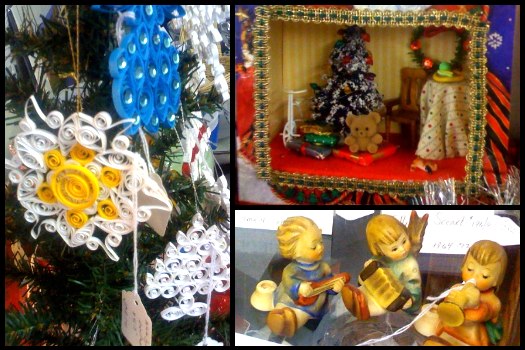 By Amy Brozio-Andrews
A few months back, a commenter here at AOA recommended Blue Fiddle Gifts so I decided to check it out. I had the address but still drove up and down Columbia Turnpike three times. I finally had to call home to double-check -- directly from their website: "The store is across the street from the Price Chopper and Columbia Plaza, in the Rensselaer Appliance shopping center."
And there it was.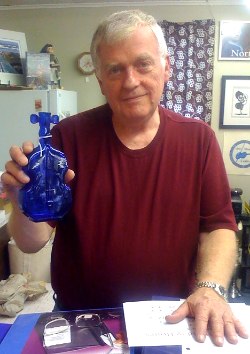 Jim and Paula MacArevey's gift shop is stuffed with an eclectic array of handmade crafts and artwork, antiques, and gently-loved items. With a little Frank Sinatra playing in the background and the scent of autumn spices in the air, it's homey, with a sign on the door that invites you to "Come in, browse, lose track of time."
While I didn't exactly lose track of time, there certainly is a lot to browse! Blue Fiddle Gifts has a little of this and a little of that. I found saw blades hand-painted with seascapes ($25), colorful quilts and vintage-look quilted wall hangings, crocheted baby sweaters and blankets ($15 and up), vintage handkerchiefs, genuine typewriter key jewelry ($60 and up), a furnished handmade dollhouse ($292.50), and quilled Christmas ornaments.
You can also find Hummels from the 1960s and 1970s, plus those old commemorative Christmas plates it seems like everyone's grandma used to have, and tiny Christmas scenes recreated in gift bags. Hand-painted wine glasses can be found near hand-made cars and trucks, and perpetual calendars.
While I probably wouldn't find anything for my twenty-something sister here (save for maybe a special holiday ornament), I could have bought a half-dozen things for my mom and my grandmother and even my friend's new baby ('cause by the time I learn to knit a sweater, the kid would be graduating from college).
Blue Fiddle Gifts sells all items as is, as most of their offerings are handmade, antique, or previously owned. Right now, a lot of the inventory is seasonal. Talking to Jim MacArevey reveals all kinds of interesting details about the local artists and crafters who sell their work through Blue Fiddle Gifts -- even the store itself (yes, there really is a glass blue fiddle). A lot of the artists will consider special requests, so if an item isn't quite what you're looking for, it may be possible to place a special order.
For anyone who's interested, they'll be offering crafting classes after the holidays, starting with a knitting class on January 17 ($30, includes supplies and yarn; call for details and to sign up).
If you're planning on visiting Blue Fiddle Gifts, their extended holiday hours will begin December 3: Wednesdays 9-7, Thursdays and Fridays 10-7, Saturdays 9-7, and Sundays 12-5, plus Tuesday, December 23 from 9-7 and Wednesday, December 24 from 9-4. The store is closed on Mondays and Tuesdays.
The Bottom Line
Blue Fiddle Gifts is a good place if you're shopping for your mom or grandmother -- maybe not so much for the younger crowd.
Find It
Blue Fiddle Gifts
400 Columbia Turnpike
Rensselaer, NY 12144
There's no street-side sign save for a small white sign with a red ribbon. Look for the Rensselaer Appliance sign. Once you pull into the lot, you can't miss it, it's on the right.
(518) 477-4424