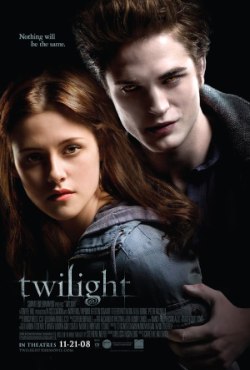 After seeing a story about how the first midnight showings of the teen-lit vampire flick Twilight are selling out around the country, we decided to check Capital Region theaters. And, as far as we can tell, there still are tickets available for the local Thursday night (Friday morning) showings (Friday night, too.) We're sure the 13-year-old girl in your life will be happy to hear that.
While checking for ticket availability, we noticed that tickets are now $10.25 at both Crossgates and Colonie Center. To which the crankiness of our advancing old age implored us to exclaim: holy moly! That's an entire month of Netflix if you're buying two tickets.
So we decided to look up ticket prices for other local movie theaters. The short story: tickets are cheaper if you go someplace other than Crossgates or Colonie Center.
The list is after the jump.
(matinee prices in parentheses)
Regal Crossgates and Colonie Center: $10.25 ($7.50)
Regal Clifton Park Center: $9.50 ($7.00)
Regal Latham Circle: $9.25 ($7.00)
Regal East Greenbush: $9.50 ($7.00)
Movieland 6 in Schenectady: $9.00 ($7.50)
The Spectrum: $8.50 (6.75, includes Tuesday night)
The Madison in Albany: $8.00 ($7.00)
Did we miss any?
Earlier on AOA: Two of the Twilight books are among the most-circulated books at the Albany Public Library.
Hi there. Comments have been closed for this item. Still have something to say? Contact us.