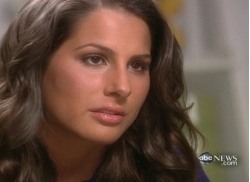 Ashley Dupre -- of Eliot Spitzer "Kristen" infamy -- was on 20/20 Friday night. She talked with Diane Sawyer about a bunch of stuff: her life growing up, how she got into the business, her dog.
But we're guessing you're interested in the bits about the former governor (we were). Here they are:
About whether she feels responsible for Spitzer downfall:

"If it wasn't me, it would have been someone else. I was doing my job. I don't feel that I brought him down."

On whether she knew who Spitzer was:

"He looked familiar. But I was 22 years old, I didn't, I wasn't reading the papers. I was so involved in my life and I was so selfish and so caught up in my life. And I didn't know who he was. I was whoever they wanted me to be and he was whoever he wanted to be."

On watching Silda Spitzer during Eliot Spitzer's press conference:

"I felt connected to her. I didn't feel connected to him. Her pain, I just saw the pain in her eyes ... I didn't feel anything for him."

One whether Spitzer was a "difficult" client:

"Legally, I've been advised not to answer that."

On how many times she and Spitzer got together:

"Legally, I am not able to answer that question."

Again, whether she felt at all responsible:

I don't feel that I brought him down.

What did?

A decision he made.

On what she would say to Spitzer:

"I wouldn't say anything to him. I'd say it to his wife ... 'Sorry for your pain.'"

Hi there. Comments have been closed for this item. Still have something to say? Contact us.