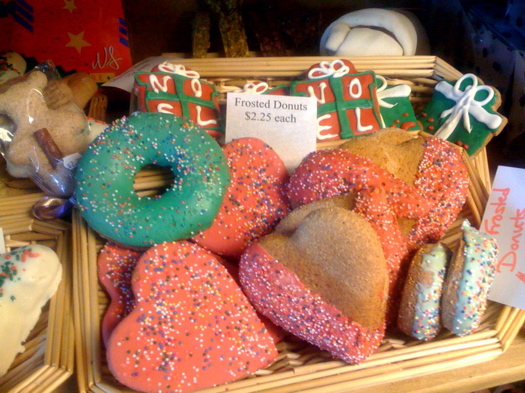 By Amy Brozio-Andrews
On day three of AOA's holiday gift guide -- a little something for man's best friend.
What?
A selection of baked pet treats from Sherry's Kitchen.
Who is it for?
Why shouldn't your pet get to join in the holiday cheer? Lord knows you have to keep them away from the lights, the tinsel (Oh god, the tinsel!), the wrapping paper, and the holiday dinner. Let them have some fun, will you?
Where can you get it?
Sherry's Kitchen, 1226 Central Ave in Albany. (518) 459-8888
How much?
Baked good for cats and dogs include carob (or yogurt) dipped bones ($0.45 each), frosted donuts ($1.50 for the small, $2.25 for the large), peanut butter cookies in a paw print box ($9.95), and bagged cheese or bacon treats ($3.95 each).
Also try:
For more pet-friendly gifts, check out Delmar's Pet Styles (316 Delaware Ave., Suite 1-2, Delmar | 518.439.3670) or Bark Avenue in Burnt Hills (810 State Route 50
Burnt Hills (518-399-PETS (7387)).
But while you're at Sherry's Kitchen, make sure you check out the list of soups and pies for people. In addition to muffin/fruit baskets and party platters, Sherry's Kitchen offers more than 70 kinds of pie in three sizes and hundreds of soups (I lost count after 200) including vegan and vegetarian options.
Find It
Sherry's Kitchen
1226 Central Ave
Albany, NY 12205
Hi there. Comments have been closed for this item. Still have something to say? Contact us.