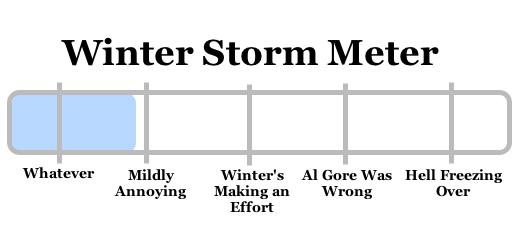 So, yep, it looks like we're going to get the first significant snow and ice of the season during the next 24 hours. The National Weather Service has issued a winter storm warning until 1 pm Friday. Here's the forecast from the NWS:

Tonight
Freezing rain, snow and sleet -- possibly heavy at times. Snow and sleet accumulation could be 1 to 3 inches. Temps will start out in the 20s and rise over night.

Friday
Freezing rain and snow in the morning. Chance of snow in the afternoon -- accumulation of maybe 1 to 3 inches. Temps in the mid 30s.

We're going to have to project this as an almost "Mildly Annoying" icy, snowy apocalypse. It'd be a total "whatever" event, but ice can be tricky. We're hoping those warmer temps will keep the accumulation down.
Note: AOA has absolutely no weather forecasting expertise. We do, however, think it's funny how every winter storm is treated like the end of the world.
Update: NBC News did a live hit about the storm from Albany last night...
Hi there. Comments have been closed for this item. Still have something to say? Contact us.