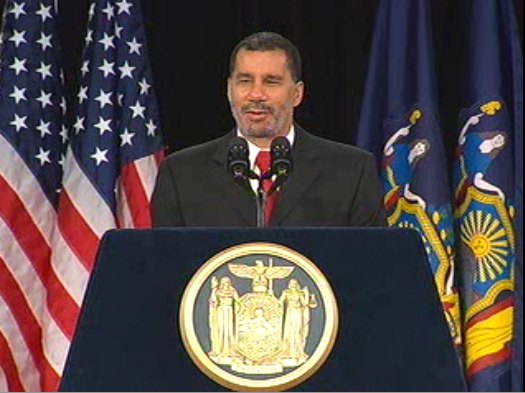 David Paterson released his proposed 2009-2010 budget today. In a short speech, Paterson reiterated that this is the worst fiscal crisis the state has faced since The Great Depression. He also said the proposed budget is not perfect and that he welcomes critiques and other ideas -- though he said that "endless ridicule" is not helpful.
Here's a very quick summary.
+ Total spending would be $121.1 billion, an increase of a little more than one percent from last year.
+ Projects reducing the state workforce by 1.5 percent -- that's an elimination of more than 3,000 jobs, mostly through consolidation of agencies. More than 500 other layoffs are also projected. The budget also calls for eliminating the scheduled 3 percent raise for state workers, delaying five days of pay and requiring state workers to pay more for health care. Budget director Laura Anglin said today that additional layoffs would be "a last resort."
+ Education funding would be cut $698 million -- that's a more than three percent cut from 2008-2009.
+ Slow the rate of spending on health care and medicaid -- cut $1.3 billion from scheduled increases (that's a 7 percent cut from the scheduled total).
+ Elimination of the STAR rebate would save $1.4 billion.
+ SUNY tuition will increase $620, a 14 percent jump. The state will extend $350 million in loans to SUNY students.
+ Welfare grants will be increased for the first time in 18 years.
+ Greater scrutiny of the Empire Zone economic development program, requiring participating companies to demonstrate that "they are producing at least $20 in actual investments and wages for every $1 that the state invests in order to remain in the program."
+ Combining a handful of state agencies. For example, the New York State Theater Institute (its offices are in Troy) would be merged with The Egg.
+ Close Mt. McGregor prison camp in Wilton.
+ An 18 percent additional sales tax on non-diet soft drinks
+ An elimination of the sales tax exemption on clothing and footwear under $110.
+ A new tax on cable and satellite TV
+ Repeal the sales tax cap on gasoline
A few notes:
+ The Gov's administration is now projecting that the state is facing a $13.7 billion deficit in the next fiscal year -- that's $1.2 billion more than was projected in October.
+ It's also projecting that state unemployment will be more than seven percent.
+ The budget doesn't assume there will be any fiscal stimulus from the federal government.
Much more detail is available from the state Division of the Budget.
screengrab: ny.gov
Hi there. Comments have been closed for this item. Still have something to say? Contact us.