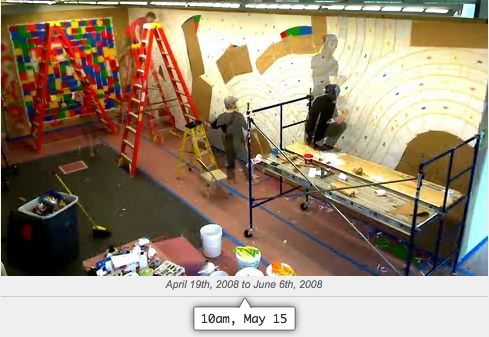 Check out these cool time-lapse videos of the wall paintings being installed for the "Sol LeWitt: A Wall Drawing Retrospective" exhibit at MASS MoCA (LeWitt bio). The exhibit is massive -- it covers 27,000 square feet over three floors -- and took a small army to install. From MASS MoCA's site:

The drawings at MASS MoCA were executed over a six-month period by a team comprising twenty-two of the senior and experienced assistants who worked with the artist over many years; thirty-three student interns from Yale University, Williams College, the Massachusetts College of Liberal Arts, and fourteen other colleges and universities; and thirteen local artists and recent graduates and post-graduates from many of the nation's leading studio-art programs.

PBS's NewsHour has posted a slide show of some of the works with audio commentary by the director of the Yale University Art Gallery (he was also a friend of LeWitt).
And here's a Flickr pool of photos from the exhibit.
If you're interested in checking out the exhibit in person, you have a little bit of time. It's scheduled to be up for the next 25 years.
screengrab: MASS MoCA