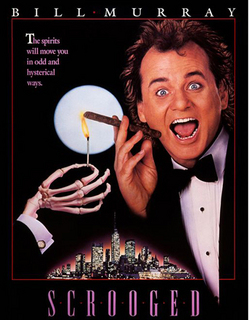 Alright, enough with the snow, the shopping the wrapping, the baking. It's time for a holiday chuckle. The Palace Theater's Classic Movie Series continues tonight with our favorite version of the Christmas Carol story, Scrooged. Bill Murray plays a bitter TV executive who gets hysterical late night visits from David Johansen and Carol Kane. (One of the meanest/funniest Christmas movie moments ever -- when Murray's Scrooge
orders wardrobe to staple antlers to the mice to make them look more like reindeer.) If you've got time for dinner first, The Victory Cafe is running a $20 special for movie goers tonight.
Heads up, though, if you can't walk or take the bus: it's worth paying for space in the lot across from the Victory tonight. The movie starts at 7, but there's a snow emergency in effect in Albany tonight, which means you'll have to move the car at 8 you may have a holiday humbug of your own.

Find It
Palace Theater
19 Clinton Avenue
Albany, NY 12207
465-3334
Hi there. Comments have been closed for this item. Still have something to say? Contact us.