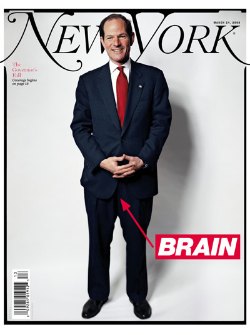 The end of 2008 is almost here. And, of course, that means year-end top 10 lists. As it happens, our one-time governor made it onto a few of those this year.
OK, it was actually more than a few.
Time's Top 10 Scandals of 2008
It's a first place finish for Eliot Spitzer in what can only be regarded as the Rose Bowl of political scandal year-end top 10 lists.
Time's Top 10 Magazine Covers of 2008
New York's "Spitzer's Brain" cover takes the #2 spot, right after the New Yorker's Obama victory cover.
Washington Post Top 10 Business and Political Scandals
The spitzering takes the #3 spot, right after the Madoff pyramid scam and Rod Blagojevich. If only 2008 had been 11 months long.
Washington Post Top 10 Political Scandals of All Time
OK, not technically a year-end list. Spitzer scores the #8 spot, once again relegated after the recent mess in Illinois. Blagojevich!
Bill Schneider's Top 10 Political Turkeys of 2008
The CNN'er gives another win to Spitzer. Ah, but let the record books show this list was compiled before the Blagojeviching came to light.
FoxNews 2008 Top Ten Celebrity Meltdowns
A bronze medal finish in this one, but Spitzer has to share with it John Edwards and Tim Mahoney. The gold medalist in this one? Amy Winehouse.
Lycos Top 10 Searched For News Stories of 2008
The Spitzer story gets a #7 ranking here.
Will Durst's Top 10 Comedic Stories of 2008
Spitzer takes just the #9 spot here. By the way, Durst is described as a "political comedian" -- after reading this list, though, we get the feeling that maybe you had to be there. Or something.
Gotham Gazette Top 10 New York Stories of 2008
Alas, no rankings here -- but some upscale company (Obama's win, Hillary for Secretary of State).
SheKnows Top 10 Horndogs of 2008
Another number one ranking for our former governor, as he edges out Kwame Kilpatrick and -- um -- David Paterson.
Your Tango's 2008 Juiciest Celeb Love Stories
Is this your tango? It's certainly not ours. Whoever it belongs to, it ranks the spitzering at #5. And with what cold logic: "This goes in the 5 Slot because he's not really a celebrity."