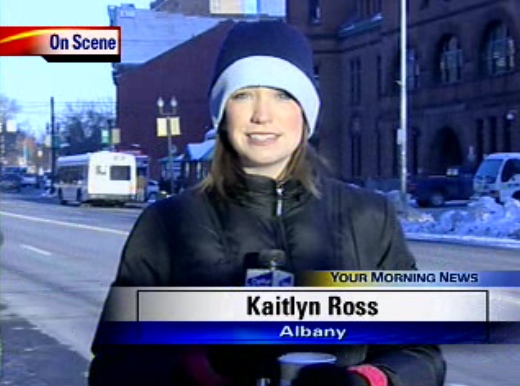 So, this morning we turned on Capital News 9 only to find poor Kaitlyn Ross shivering on an Albany street corner just so viewers could see exactly how cold it really is outside.
And a few months back, when trees were bent over with ice, Kaitlyn was standing in Washington Park to let the Capital Region know that it was much too dangerous to -- you know -- stand in Washington Park.
In fact, if it's morning -- and the weather sucks -- turn on channel 9 and you're almost certain to see poor Kaitlyn out in the thick of it. Which prompts the question, what the hell did she do to piss off the Capital News 9 producers?
And of course, being us -- we had to ask.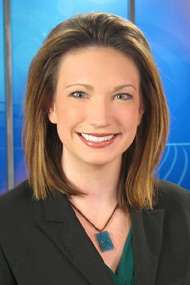 So why is it always you out there? Do you have some bad poker debts to work off?
Actually, this is an ongoing joke at my station. I started working in Binghamton at our sister station News 10 Now, and out there they have some serious snowstorms.
The story I covered that brought me to Albany was pretty tragic, a trooper shooting, but throughout that story, the weather was just awful. So in all of the promos that they shot I was just drenched or in a snowstorm or something. I looked like a drowned rat. So when I came to Albany, they looked at those promos and said "OK, you're our go-to person for weather stories."
When I first started, in the Winter 2007, it snowed every weekend and I ended up working every Sunday.
So, do you think it actually adds anything to the coverage of the weather to make you stand out there in the cold like that?
I think it's the novelty of it. People get amused by how long you're going to stand out there. After the 8th hit of the morning you feel a little like "what more am i adding" but with News 9 people will tune us in for 5 minutes and then leave. Then someone else will tune us in.
When you stand in front of your closet in the morning, do you know where you're going to end up?
Ha! Not always. I've got a shoe store under my desk. There's a pair of rain galoshes that go up to my knees which came in handy during the flooding in Rensselaer, snow boots for days like today, running shoes for when I might be on my feet all day, dress boots and two pairs of socks. I'm not going to comment on the cleanliness of the socks, but they keep me warm when I need them.
Today, I was prepared. So under my clothes I'm wearing long johns and yoga pants, a tank top, and a long sleeve shirt. And right now, in the office, I'm pouring sweat!
Do you ever stand out there and think, "Mannn, I wonder if Barbara Walters ever had to do this?"
Well that's what you hope. Right? Most of the time when they send me out to cover that stuff we do a live hit and a then a pre-recorded one back to back. So there's a little time in the middle. Usually I do jumping jacks in the middle to keep warm.
The people who pass by are hilarious. This morning I talked to this woman at a bus stop (my theory is that if someone's waiting for a bus they can't really run away from me) and I say, "How cold is it outside?" And she says "It's so cold my nose can't run. My snot is paralyzed". And this is live.
So it sounds like you're not just miserable in the cold, waiting for it to be over and just thinking "Why me?" Becuase, you know, we were concerned.
I was just so excited to get the job. For me it's still fun... ask me again next year if I'm still standing in the cold at 5 AM and maybe I'll have a different answer.
photo and screengrab: Capital News 9
Say Something!
We'd really like you to take part in the conversation here at All Over Albany. But we do have a few rules here. Don't worry, they're easy. The first: be kind. The second: treat everyone else with the same respect you'd like to see in return. Cool? Great, post away. Comments are moderated so it might take a little while for your comment to show up. Thanks for being patient.