Amy Biancolli has our dream job. She lives here in Albany, but she's a movie critic for the Houston Chronicle. She's also an author.
And now she's a playwright. Capital Rep is staging her first play, "Kreisler's Long Sleep," as part of its "Biggest Little International Play Festival."
The play is based on her book about world renowned violinist Fritz Kriesler. Now, admittedly, we're not exactly up on our violinists, but this guy sounds pretty interesting. Amy took a few minutes off from the glamorous life of a film critic/playwright to tell AOA a little more about him-- and about herself.
Who was Fritz Kriesler? Why does he fascinate you so much?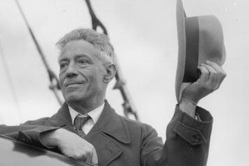 Fritz Kreisler (that's him on the right) was the most beloved violinist of his age & in all likelihood any age. In his performances and his compositions he captured both the spirit of a specific time and place -- fin-de-si Vienna, where he was born in 1875 -- and a universal humanity that audiences fell in love with. It's almost hard to describe his popularity; I usually ask people to imagine Pavarotti's cross-over appeal and then multiply it five-fold. I grew up listening to Kreisler's recordings because my mother, a concert violinist, worshiped him. She once followed him for 12 blocks in Manhattan, trying to screw up the courage to approach him. (She didn't!)

As an amateur violinist myself I've always admired the intimacy and warmth of his "voice." Shortly after I moved to Albany, I started lessons with a new teacher. One morning, when she was trying to help me with my vibrato, she popped a Kreisler recording into her stereo and said, "Listen to this." The force of his playing almost knocked me over. It felt as though he'd spoken to me -- his playing is that familiar, almost like an old friend's. Right then and there I became determined to learn more about him, and when it turned out a biography hadn't been published for almost half a century, I thought it was time to write another one.

It turned out he'd led an unbelievably colorful life. And what a wife he had! -- forceful and bossy, and yet a generous philanthropist and a devoted advocate for him. His friends hated her because she forced him to practice and wasn't always pleasant to be around. And yet they adored each other.
How was writing the play different from the writing the book?

Having spent all those years researching Kreisler, I had a blast fictionalizing him -- allowing myself to spin out scenes from his life I had only imagined. He and his wife, Harriet, came to life on the page with shocking ease. It was as though I'd internalized them and their voices were in me, waiting to come out. And as I wrote, I found I felt more & more fond of Harriet.
When you're not researching or writing, you're watching movies. So what's the worst movie you've ever seen?

Ever? You mean, one that I've reviewed? "The Celestine Prophecy," I guess. That was just. . . . a complete zero. Worst one that I've ever seen? I dunno. "Santa Claus Conquers the Martians"? Various Ed Wood concoctions? But, see, those are entertainingly bad movies. The bad bad ones I tend to forget, if only as a defense mechanism.

Do they all start to look alike after a while? Does anything still surprise you in film?
No, they don't all start to look alike, but I find that I'm more sensitized to boorish cliches than most moviegoers. I spot worn-out plot devices very quickly and become very annoyed as a result. That said, Yes: film is still able to surprise me. And when it does, I tend to fall in love with it. A movie like Slumdog Millionaire seduced & surprised me in so many ways that I felt an immediate outpouring of gratitude. I know readers sometimes complain that critics turn up their noses at mainstream entertainments and go instead for the weird, the artsy-fartsy or the avant-gard, but what they don't realize is how many movies we see on a regular basis. And when one film distinguishes itself from the usual hackeneyed releases, well, it's cause for celebration.

Amy Biancolli's play, "Kreisler's Long Sleep," is being staged on Monday, January 26th. Tickets are free, but you do need a reservation. You can make one at 445-SHOW.


Say Something!
We'd really like you to take part in the conversation here at All Over Albany. But we do have a few rules here. Don't worry, they're easy. The first: be kind. The second: treat everyone else with the same respect you'd like to see in return. Cool? Great, post away. Comments are moderated so it might take a little while for your comment to show up. Thanks for being patient.