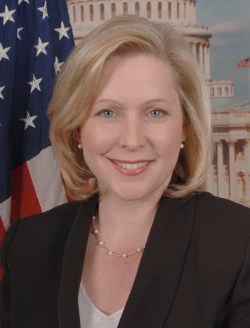 We read all the coverage about Kirsten Gillibrand's appointment to the Senate so you don't have to.
And there certainly has been plenty of it.
+ In a statement, Barack Obama said the selection of Gillibrand was "a wonderful choice." [NYO]
+ The pick of Gillibrand "came under harsh criticism from her party's left wing and advocates for immigrants and gun control." [Newsday]
+ Despite the wailing from the liberal side of the Democratic Party, Ezra Klein notes that Gillibrand's voting record indicates she's actually a "generic" Democrat. [American Prospect]
+ Rep. Carolyn McCarthy, who represents a Long Island district, has already said she'll run against Gillibrand in the 2010 primary because of Gillibrand's stance on gun control. [Newsday]
+ Gillibrand said Sunday, "I very much believe in protecting hunters' rights." [NYT]
+ The selection of Gillibrand was "shocking" to many Democrats. [NY Post]
+ People who've known Gillibrand say it's not surprising she's risen so far, so fast. [Newsday]
+ Both Democrats and Republicans in Gillibrand's former House district are praising her. [Kingston Daily Freeman]
+ She got a standing ovation in Harlem after appearing with Al Sharpton on Saturday. [AP]
+ Democratic insiders seem to think that Chuck Schumer was a winner in this situation because he had been touting Gillibrand behind the scenes. [NYT]
+ Often described as ambitious, Andrew Cuomo "played against type" during the Senate selection circus. [NYT]
+ The other members of the NY Congressional delegation apparently are not fans of Gillibrand, having nicknamed her "Tracy Flick" because of her out-in-the-open ambition. [Politico]
+ Gawker on the soon-to-be Senator: "Gillibrand, a fiscally conservative "Blue Dog" Democrat, has sneakily wormed her way into contention for the senate by doing a competent job in a series of increasingly powerful positions relevant to being a senator, and by completing sentences without saying "uh, you know, well" 47 times." [Gawker]
+ Local leaders are hoping Gillibrand will be an "upstate watchdog." [Saratogian]
+ Gillibrand has already started fundraising for her 2010 Senate campaign. [Politico]
+ First task in raising her profile around the state: explaining how to pronounce "Gillibrand." [NYT]
+ Gillibrand conducted "opposition research" against herself before running in 2006. [Politico]
+ Republican Rep. Peter King, who's considering a run for the Senate in 2010, says "there is a cloud over this appointment." [Politico]
+ In criticizing David Paterson, Maureen Dowd describes Gillibrand as "an N.R.A. handmaiden" whose connections to Al D'Amato are "gross." [NYT]
+ Errol Louis says Paterson "stumbled badly" in selecting Gillibrand. [NYDN]
+ Ben Smith says "there's a great book to be written about" Polly Noonan, Gillibrand's grandmother and longtime "confidant" to former Albany mayor Erastus Corning. [Politico]
Say Something!
We'd really like you to take part in the conversation here at All Over Albany. But we do have a few rules here. Don't worry, they're easy. The first: be kind. The second: treat everyone else with the same respect you'd like to see in return. Cool? Great, post away. Comments are moderated so it might take a little while for your comment to show up. Thanks for being patient.