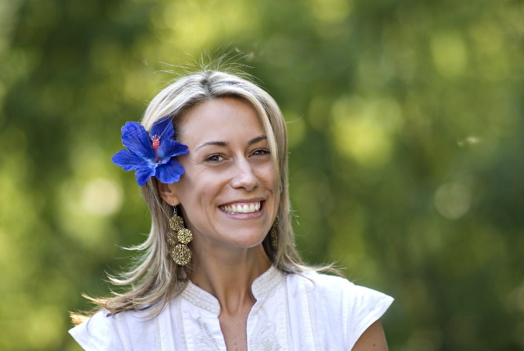 So the other day, while checking out Downtown Susie Brown, we ran across a post about Jordane Baker. She's the owner of Heaven Scent, an eco-friendly florist in Saratoga Springs.
If you're anything like us, you just said, "Huh? Eco-friendly florist?" Yeah, we had to ask.
So we called the native Australian to find out exactly what an eco-friendly florist is, and why after living in Australia, London, Tokyo, Manhattan and all over Europe, she's decided Saratoga Springs is the place to be one.
What does it mean to be an eco-friendly florist?
It means a lot of different things. When I started my business two years ago I went on Google looking for vases made of recycled glass, recycled paper, wrapping papers made with inks that use vegetable-based ink. All my business cards and marketing materials are done through a greener printer who uses wind energy to produce everything. They're made on recycled paper with vegetable based inks. I tried to find a printer locally but no one seems to do eco-friendly printing. I buy fair trade flowers and when I can I buy locally-grown flowers. Most flowers come from Latin America. There are a few organizations (Veriflora, FloreVerde) for fair trade growers. Farmers pay a fee and once a year they are certified to be free trade flower growers, which means the flowers are being grown ethically, morally and in socially responsible ways.
I'm a custom florist which means I don't do Teleflora. That's because I don't like to produce a cookie cutter type design from a book, I like to create more memorable arrangements, and I refuse to use that green flower foam they use. That stuff is hideous to flowers, it shortens their life, it doesn't break down, and it emits toxic fumes if you burn it. It's awful. I like to present flowers in fresh water -- they just seem happier!
Why did you choose to go eco-friendly? Was it just a marketing thing? A way to set yourself apart?
I almost didn't want to start an eco-friendly business because I didn't want people to think I was trying to capitalize on the idea. But it's just so much a part of who I am.
It's just something fundamental for me.
I grew up in Australia, and Australians are rooted in eco-friendly. I grew up in one of the first homes with solar panels on the roof. My parents had a greenhouse and we composted absolutely everything. Our compost heap was worm managed. I don't know why people don't go eco-friendly. If someone in the US is looking for a niche to start a business, they should start a glass recycling factory where they make things using recycled glass. I tried to get recycled glass vases in the US I looked all over and couldn't find them. If a customer wants recycled glass vases, I have to get them from Spain or China. Most new glass is also coming from China too. It really sucks because I'm trying to do this good service with recycled glass, but then I'm shipping them in from Spain and China. In the US you can't recycle glass vases. In Europe and Australia it's so easy to recycle them.
Does eco-friendly = more expensive?
No. Fair trade flowers don't cost more money. If you want specifically organic flowers, those are more expensive, but fair trade flowers don't cost more. I just have to rely on my wholesalers more. Also, I try to cut out miscellaneous expenses. When you buy flowers, those cookie cutter vases can account for $5-$10 dollars of the cost. Everyone has them lying around under the sink and you can't put them in the recycling bin. So I started a vase recycling program. If you bring those cookie cutter vases to me you'll get a discount on your flowers.
Is eco-friendly kind of an industry trend now?
I don't think it's an industry trend yet. They're starting to think about it, though. I think right now the idea is with the wholesalers. I'm always asking them "Why aren't you stocking wrapping paper made of vegetable based ink?" It will start with wholesalers.
You have a garden of local blooms. What flowers are best to grow here in the Capital Region?

Steer away from annuals. I'm big on perennial plants. Look for perennials for zone 4 or 5. Stay away from Zone 11 -- it's for plants that grow tropically. Bulbs are good here. Tulips and daffodils and muscari. And everyone should plant peonies. It's so expensive to buy them from a florist but they grow like weeds here. Also roses and lily of the valley.
What mistakes do people make when choosing flowers?
Probably knowing what a fresh flower is. Price Chopper flowers are great, and I love that they make them affordable for the average person. But if you don't get them when they first arrive, you may be in a rush and get flowers that aren't fresh. If you notice, they often put their flowers near the fruit and vegetable department. The fruit gives off ethylene in its ripening process and ethylene speeds up the process of a blooming flower considerably. So to have ripening, say, bananas near the flower department is simply not a good mix. I walk in and think, "Uh, they're killing them. They're dying." Always keep your flowers away from fruit.
Also, you need to care for your flowers. You should cut them back regularly, give them fresh water every few days and make sure they're not near a heater or in the sun. Don't just plop them in a vase and leave them there.
You're from Australia and you've traveled quite a bit, so why have you settled in the Capital Region?
True love. I'm one of those girls. I met my husband 9 years ago when I was living in Saratoga for a short time. Then I moved to Manhattan. We got married a few years ago and I moved back here.
What is the Capital Region missing? From all of your travels, what do you wish we had here?
Wouldn't it be great if there was a indoor surfing park? (laughs) But I only had that in Tokyo. No, the first thing I would says is better, and easier, recycling.
You grow flowers, arrange flowers, paint flowers and take photographs of flowers. Everybody loves flowers, but what do you see in them that makes you want to make them such a big part of your life?
They are my life. (laughs) I was brought up on the edge of a national park in Australia, so there were orchids and all kinds of wild flowers in my backyard. I used to take my teddy bears to the bush and have a teddy bear picnic amongst the flowers. We also had a greenhouse that was like a living in a jungle in Costa Rica. Flowers and plants are incredibly grounding for me. When life is out of control, I like to just go out in the garden and stare at a gorgeous flower.
I'm not a religious person, but my 10-year-old stepson once asked me if I believed in god. I told him that if I was to say there was a god, he or she would be in the flowers. We've created these fast paced modern lives. Flowers and gardening are a reminder of simple things. Simple, natural and elegant.
_____
Heaven Scent does not have a storefront. Jordy works out of a private studio in her home and is available by appointment.
Say Something!
We'd really like you to take part in the conversation here at All Over Albany. But we do have a few rules here. Don't worry, they're easy. The first: be kind. The second: treat everyone else with the same respect you'd like to see in return. Cool? Great, post away. Comments are moderated so it might take a little while for your comment to show up. Thanks for being patient.