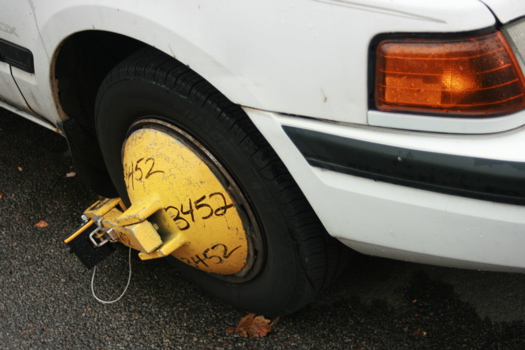 By Jessica Pasko
Editors' note: We're guessing (hoping) that Jessica's story is not a typical Albany parking ticket experience. But it's so outrageous, we thought you'd want to hear about it -- especially in light of the whole "ghost ticket" situation.
While the Albany police department is apparently handing out tickets that don't actually have to be paid to Albany's elite, there are others of us who are getting booted. Erroneously.
Yes, everyone who gets booted complains -- but before you brand me a martyr, let me explain.
Last Thursday, after a wonderful dinner party at CCK, I came out to discover my car had been booted. It was cold, it was almost 11 and I was on lower Central Ave. I was also utterly confused at that point because I didn't think I had any unpaid parking tickets.
As it happens, that day I'd received a letter from city hall regarding a ticket I'd contested. I was turned down and given until Feb. 12 to pay the 50 dollar fine. I had also received a ticket two weeks ago for parking too close to a fire hydrant. That ticket wasn't due until the 22nd. I didn't think this qualified me for the boot.
Dealing with the cops
So my boyfriend makes a couple of attempts to phone the police station listed on the ticket to ask them to look up my record. Each time he is met with absolute surliness. Finally the officer relents and agrees to look the records up. Our friends drop us off at the boy's house and we get in his car and head to the police station, where the officer shows me my ticket history on the computer system. According to them, I have been granted "scofflaw" status for being overdue on three tickets.

The boot notice infers I owe over $400, in part because the cop inappropriately applied a late fee for a non-late ticket. I point this out at the station and that part of the fee is knocked down. I then show him my paperwork from city hall and explain that when you contest a ticket, you don't owe a late fee. He agrees, but tells me I have to work that out with city hall, not him.

He told me if I wanted to get my car back, I would have to get a money order for $400. Yes, folks -- the APD doesn't accept personal checks or credit cards. It's after 11 p.m. at this point, so clearly this isn't going to happen.
On to city hall

The next morning, I have to call work and take a personal day. I drive the boyfriend's car to to city hall. At the parking violations bureau, they look at my records and my paperwork and realize that the cops should not have booted me at all.
I'm feeling pretty triumphant at this point and begin singing a bastardized version of The Clash's "I fought the law" in my head.

What I actually owed was $85 -- not $400 -- on a ticket that I did legitimately forget to pay. So the nice guy at city hall knocks off the boot fee, the inappropriate late fees and sets it up so that all I'm actually required to pay is the $85. I then head to the treasurer's bureau and pay up the $85 and my hydrant ticket.

The very sweet woman there feels terrible for me, takes my payment and says she will call the cops to get them to take off my boot. All I have to do is show up at my car. She also tells me to give it about an hour or so. So I grab some breakfast, drop off the borrowed car and take the bus to my car. I get there and am glad to see the boot is removed.
But, wait...

Here's the kicker: There's now A PARKING TICKET ON MY CAR.
Apparently as soon as one cop took the boot off, another must have driven past and ticketed me. I begin to do one of those things where you're laughing and crying at the same time, because, really, the whole thing is kind of hilarious. Or not.

I drive back to the police station and explain myself to the officer on duty, who is about as nonchalant as he could be. I explain that it took me a few extra minutes to get to my un-booted car because of the lack of transportation inflicted on me by his police department. His oh-so-helpful assistance? Go work it out at city hall.
Back to city hall
So I head back to city hall -- to the same parking violations bureau guy. He is appalled by this whole situation. He takes the ticket, takes my receipt and has me fill out a parking bureau complaint form. He assures me they'll take care of it and I won't have to worry about anything and I will likely get a letter in the mail about it soon.
By now it's about 3 p.m. and I begin to wonder, "Is 3 p.m. too soon for happy hour?"
photo: Flickr user quinn.anya
Say Something!
We'd really like you to take part in the conversation here at All Over Albany. But we do have a few rules here. Don't worry, they're easy. The first: be kind. The second: treat everyone else with the same respect you'd like to see in return. Cool? Great, post away. Comments are moderated so it might take a little while for your comment to show up. Thanks for being patient.