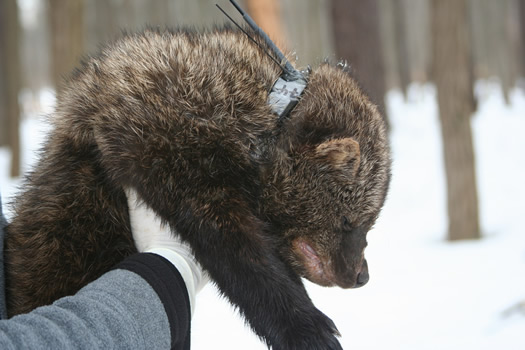 That furry guy in the picture above is a fisher. His name is Bernard. He was caught by some scientists in the Albany Pine Bush recently as part of research into why he and his fisher friends have decided to take up residence in suburban parts of this area (they've been spotted around Albany and Saratoga counties).
What, you've never heard of fishers? Very few people have. The animals were extraordinarily rare in this area as recently as the 1990s.
Intrigued by our new neighbors, we called up Roland Kays this week. He's the curator of mammals at the New York State Museum and he's leading the research project that captured Bernard.
We talked with Roland about fisher mysteries, coked up wolverines, cat murders, squirrel horror movies and "the landscape of fear."
So, what are you doing with fishers in the Pine Bush?
We're catching them, giving them GPS collars and then letting them go. And what we want to do is look at their movement patterns see how it is they're navigating and choosing where to go in a suburbanized landscape.
We'll also be doing this with animals in a more wilderness setting. And the underlying question is: what are the adaptations that animals make to human dominated landscapes.
Why the interest in fishers specifically?
Because they're new arrivals on the suburban landscape. They have just recently entered the area in the last 10 years.
Why is that?
(laughs) Well, that's what we're trying to find out. Because they can, I guess.
But why they can is an interesting question. They were, historically, at much lower population levels throughout the state in the mid-1900s and even into the 1970s. And then in the late 80s and early 90s their population started increasing across the state and across the region in the Eastern United States. As part of that, I think they filled up all the wilderness habitat and started pushing into these other habitats, these woods in people's backyards.
Coyotes have kind of done the same thing. And people know about the coyotes, but no one seems to know about the fishers in their backyard.
Right, I don't think most people even know such an animal exists.
No, they don't. And, you know, there's a couple reasons for that. One is that even if you were a woodsman growing up in the 80s or 70s or even most of the 90s, you probably never would have come across one because they were just so rare. They were only a wilderness animal in the Adirondacks.
And then, for reasons we don't necessarily know -- partially because fur prices dropped, but other reasons have probably also come into play -- they've just spread all over the place and they're really abundant.
Last year in the TU, there was a story about a woman being attacked by a fisher in Glenville. And that account kind of made the fisher sound like some kind of coked up wolverine. Are these something we should be afraid of?
I wouldn't say they're coked up wolverines, but they are like... wolverines (laughs). A coked up wolverine would be really scary...
Well, first of all, that animal had rabies. And, you know, a pussy cat that gets rabies is going to be like a coked up wolverine.
And that was a very rare case. The state pathologist can't remember ever seeing another fisher with rabies. That's a side effect of fishers being abundant and living in areas that also have a lot of raccoons.
So it's not like these things are naturally aggressive to humans.
Correct. I have not heard of them ever attacking, other than that one. Which, by the way, that fisher was wearing a radio collar with my name on it when it attacked that lady.
Oh, that must have made you very proud!
(light, sarcastic laugh) Yeah. It was Roger the fisher. A few years ago we had radio collared a few fishers. We caught one in the Pine Bush and he took off and went down around Thacher Park. And the battery ran out after about a year and we had no way of following him and that was the end of it as far as we were concerned.
After that, it turns out he crossed he Mohawk River, a couple highways, went north of Schenectady, ran into a raccoon, got rabies and bit a lady on the foot.
So how does one go about catching a fisher?
Basic cage live trap with some chicken and some stinky scent liver.
[Here's some video of a fisher captured in the Pine Bush.]
Fishers are powerless to resist.
Yeah, they're curious animals and they go in and trigger the trap. And we go check them, tranquilize them, pull them out, give 'em a radio collar, take a couple measurements, put them back in and let them wake up. [On the right is a picture of a tranquilized fisher being weighed.]
So, in another hour, my students are going to go let the newest fisher out. [this was Thursday afternoon]
And that normally goes OK, nobody loses a hand or anything like that?
Yeah, nobody loses a hand, no. Yeah, these are in the weasel famiily and weasels generally have attitudes that are pretty ferocious -- they're predators of mice and rabbits.
These guys are bigger. We caught a big guy the other day. We named him Bernard. He was 6.2 kilos (13.6 lbs).
So they're like a really big cat.
Yeah. Only no fat.
Just all muscle.
Yeah.
And I'm guessing claws.
Yeah. They have big feet.
So they're called fishers...
Yeah, that's a bad name. They don't do any fishing.They eat a lot of things.
There was a little kerfluffle recently. This guy up in Wilton got upset because his cat got killed by a predator. And he had seen a fisher a few days before that so he thought a fisher did it. And he made a bit of stink about fishers, "We gotta kill these fishers, they're eating all our cats."
It may have been a fisher. It was probably a coyote. Coyotes definitely eat cats. I've never seen hard evidence that fishers eat cats. We looked at the diets of about 20 fishers around Saratoga and Albany counties and we found a lot of different things -- they eat rabbits and squirrels and birds and mice and fruit. We didn't find any cats, but that doesn't mean they don't do it.
It sounds like, potentially, the arrival of these fishers isn't necessarily a bad thing if they're going to be predators for a lot of these animals that don't have checks on them already.
Yeah, absolutely. The one I'm most interested in is the gray squirrel. Here's a suburban creature that's has been living sort of high on the hog for the past 20 years.
Let me tell you, we have some *fat* squirrels around here.
Yeah, lots of overweight squirrels with no fear. Their main predators have been dogs and cats. And they can just run up a tree and look at the dogs and cats. But a fisher climbs trees very well.
In the biologists' lingo, there's a fun term called the "landscape of fear" -- where is an animal safe and where should it be afraid. And the squirrel's landscape of fear just changed in a drastic way with the arrival of fishers. Suddenly they're not safe in trees anymore.
That sounds like the trailer for some squirrel horror movie.
Doesn't it? (laughs)
So, if fisher is a bad name for these things, what would you call them?
Mini-wolverines? I don't know. (laughs) They're a type of marten. They're a really big marten. Mega-marten?
________
Roland and his team have been trapping and tagging fishers in the Pine Bush since 2002. But he says they've only recently focused on the animals. The current study is using collars with tiny GPS tags to track the fishers around Albany. The team is working to compile the GPS data on a map to show where the fishers have been hanging out.
This interview has been lightly edited and condensed.
photo: Roland Kays
Say Something!
We'd really like you to take part in the conversation here at All Over Albany. But we do have a few rules here. Don't worry, they're easy. The first: be kind. The second: treat everyone else with the same respect you'd like to see in return. Cool? Great, post away. Comments are moderated so it might take a little while for your comment to show up. Thanks for being patient.