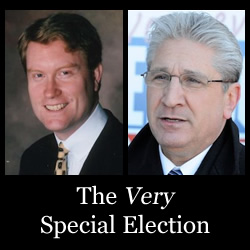 Updated Monday at 11:15 pm
What, you haven't been closely following every exciting turn in the special election to fill Kirsten Gillibrand's former House seat?
Worry not. We've sort of been paying attention so you don't have to.
Here's the quick rundown on where things are at in the race between Republican Jim Tedisco and Democrat Scott Murphy for the 20th Congressional District.
+ The special election will be held March 31.
+ The two candidates will debate March 26 at the Holiday Inn Express in Latham. [Troy Record]
+ A Skidmore political science professor predicts the candidates could spend a combined $4 million on the race. [Daily Gazette]

The pitch
+ Murphy's basic pitch: I'm not a career politician and I can create jobs. He's claimed that he has the nickname "Mr. Jobs" -- though the source of that nickname seems to be in doubt. [press release] [Post-Star]
+ Tedisco's basic pitch: you know me, you love me, pass me the ball and I'll create jobs and cut taxes. [Saratogian]
Mud and whatnot
+ Both campaigns have tried to sling mud at the other -- though it doesn't seem to stick very well. [TU]
+ The National Republican Congressional Committee has criticized Murphy for not voting in eight elections between 2000 and 2003, including the 2000 presidential election. [Daily Gazette]
+ Tedisco won't say how he would have voted on the federal stimulus bill -- and Murphy's campaign has been criticizing Tedisco for not publicly taking a stand. Of the stimulus bill, Murphy told NYT: "I don't believe it's a perfect bill, but I believe it's something we needed to do." [NYT]
+ Tedisco's legislative staff has been taking leave from their duties to work on his campaign. Apparently there's some concern among Republicans at the capitol that Tedisco's head isn't in the game for the upcoming state budget battle. [TU]
+ Tedisco's campaign has been trying to use different ways of connecting with voters. Tedisco participated in a "tele town hall meeting" recently in which 6000 people reportedly listened to him talk over the phone. Tedisco also took part in an interview on Twitter recently. The embrace of new media hasn't always gone smoothly.
Cute facts
+ Cute Murphy fact: his wife is one of 87 grandchildren from a Washington County family. (The candidate seems to have had trouble keeping everyone straight.)
+ Cute Tedisco fact: he picks up his dogs' poop.
TV spots
+ Murphy's TV spot:
Take home: Even though I'm not from here, I really like it here. And I put dishes in the sink for my daughter to wash.
+ Tedisco's TV spot:
Take home: I'm a great guy who really is from here. Nod if you agree.
There's one other guy
+ There's another candidate hoping to get into the race. Eric Sundwall, a libertarian, is hoping to get enough signatures for a place on the ballot. He says he's against the government bailout of the financial industry.
Hi there. Comments have been closed for this item. Still have something to say? Contact us.