By Jessica Pasko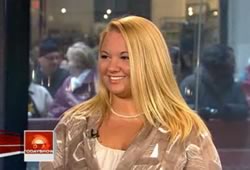 Liz Funk wrote the book on overachievers. No -- really -- she did. The 20 year old Pace University Senior and Voorheesville native just released her first book, "Supergirls Speak Out." A few weeks ago she was on the Today show and she's got interviews and lectures scheduled all over the country.
But while many young people are leaving upstate NY after college to start new lives and begin their careers, overachiever Liz Funk has come home to the Capital Region.
She talked with Jessica Pasko about why she's back, and shared her thoughts on stopping the upstate brain drain.
I think it's interesting -- and kind of great -- that a young woman with a book deal and a private school education has returned to her upstate digs, considering the Capital Region's notorious "brain drain" problem. What do you plan on doing next? Where do you see yourself in the next couple of years?
I honestly much prefer living up here to living in Manhattan. I lived in the city for three years, and although I'm so glad I did it and I had a blast, living in New York City is really hard! Sex and the City and Gossip Girl and chick flicks give an overly romanticized look at New York life. Because most young people in NYC don't have cars and live in small, grungy apartments, everyday tasks like getting groceries home and getting to class can be complicated and labor-intensive, and it can start to affect your productivity and your mood.
I really do like the Albany area; I think it's beautiful. I like to go out to Indian Ladder Farms in Altamont and Thatcher Park and take in the scenery. But I can see what you're saying about the brain drain--I went to see Avenue Q at Proctor's a few weeks ago and people started getting up during the finale to leave, and I was shocked--like, "Seriously, people?" You would never see that in New York, and it embarrassed me a little.
But, in general, I do love the Capital District. The people here are so friendly and nice. There is more possibility here, too: there's a smaller creative class, so it's a more supportive environment for young people to dream big. And I think twentysomethings who live in medium-sized cities and the suburbs grow up to live more cheerful, more organized lives.
I will probably move from Albany within the next year to get more life experience, but it will definitely be to somewhere more laid back than New York, like California or Florida or Paris. I honestly have no idea what the future holds for me--and for all the other students who are graduating this year--but I have the overwhelming sense that we'll be happy and find jobs and hopefully encourage our government and our culture to incite some positive change.

Why do you think this area isn't a more appealing to younger adults?
 
The irony is that this area is such a great  place to live; I like it so much better than Manhattan--it's such a civil, happy life up here!  A big part of the problem is just that there aren't a wide variety of jobs here.  At this point, none of what I do professionally has ties to Albany; I'm telecommuting to New York (or other cities) 100%.  Although I haven't searched for a job up here, I get the sense that there aren't many avenues that creative professionals can take. But I think the bigger problem is the mood here. 
 
I think people think that when you live in a big city, you have the opportunity to explore your personality and your style and be funky because there's more anonymity and glamour in a city--but you can have style and personality in the suburbs!  This area needs a little more diversity of people with different talents and looks and unusual interests, and I think people living in this area shouldn't feel shy about being edgy even if this area is technically a suburb. There was an awesome article in New York magazine in the late summer about the possibility of living in Buffalo and how New Yorkers are leaving NYC for Buffalo and I think we young overachievers need to view Albany the same  way--that it's an open frontier of possibility that we can make our own.
 
What do you think we're missing in this area that could maybe attract more up and coming achievers?
 
I think the biggest thing the Capital District is missing is brunch places.  I'm completely serious.  I used to live in Hells Kitchen, a cool neighborhood west of Times Square, and between 56th Street and 50th Street, there were probably 15 places where you could have a really awesome brunch with mimosas and Benedict salmon or nice French toast or whatever.  There is no better way to start the weekend than with a good brunch.  Actually, the restaurant/hangout thing here is a big problem.  I don't think there are many easily accessible places in this area to curl up with coffee or a glass of wine or have a private conversation with friends in a cool atmosphere.
Although--here's the thing, I think you have to bloom where you're planted.  When I left New York, I was a little sad, just because I felt like I lost a lot of the possibility and je ne sais quoi in my life.  But a week or two after I'd been here, I went to Barnes and Noble and chatted with this woman in a beautiful vintage fur coat, and she was wearing a cute knit dress and ankle boots... just to hang out at the mall!  So I think you can still explore your style and your personality and dress like you live in a city of 1 million or 8 million, even if you're going to shopping malls and eating at chain restaurants.  I think that until the legislators come up with a solid plan to bring more jobs to this area and make it a more enticing place for young people to live, it's all in the mentality, for now.
This interview has been edited and condensed.