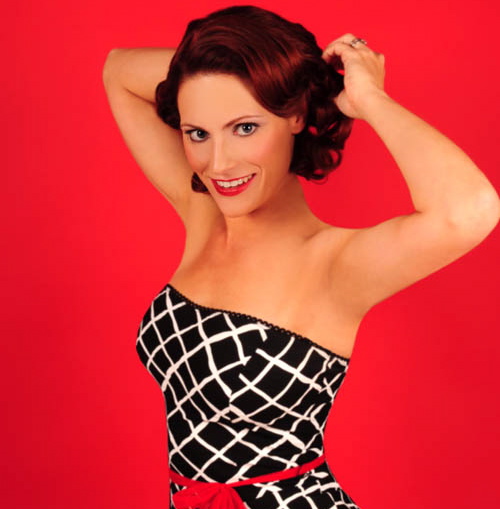 We started reading Amy's post about First Impressions Boutique a few days ago and thought "Pin-up art? Hmm. We have to know more about this."
So we called Lorraine Murphy, artist, photographer and owner of First Impressions, to find out if, in fact, Capital Region women are going all Bettie Page. Turns out this is a little bit of a thing. More pictures and Lorraine's answers to our questions, after the jump.
What even made you think of doing these pin-up photos?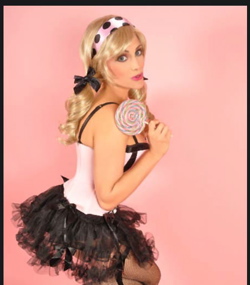 I have a lot of pin up art and I paint my own pin-up type art -- like Bettie Page girls.
I love dressing up and I had all the pinup wigs and costumes. I always wanted to go to southern California and get my own pin-up shots done. It's pretty popular there. Finally about a year ago I did a photo shoot here for my husband -- but there was no one around here that did pin-up photos. So I thought, "This is a niche. I'll do them." I'm an artist and I took lessons from a fashion photographer.
But why pin-up models? What's the allure?
I just like the classic beauty of the pin-ups. They were so gorgeous and curvy. I like that the women could be curvy. The 50's were exciting -- the sexuality -- it's kind of like a tease -- not showing the whole thing. I like the hint of suggestion.
I think because it's very period -- it's not everyday -- it's more fun. It's something very different but still classy. I didn't want to do nude or boudoir photos. Retro is more fun anyway. You're going back in time. You put on wigs from the 1950's -- it's fun to go back in time to the glamor days
Do a lot of people get these photos taken?
They do, actually. It's grown very fast. I've been doing the pinups for less than a year in the Capital Region and we've done more than 100. I've started doing them in Boston and we sell out every time I go there. We're going to try NYC next.
Who gets these pictures done?
It varies. We've seen women from 18 to 60. Women of all shapes -- not just the skinny girls. People you would never guess because they look so conservative on the outside.
I've had FBI agents, stay at home moms, nurses, a pilates instructor. My favorite was the FBI agent. She wore a cop uniform and did a classic Bettie Page.
I have a lot of women doing it for their husbands as a wedding day gift or for birthday or Valentine's day gifts. I have a group that are just doing it as a girls day out. A few girls are trying to get into modeling. And then there are some women that do it for themselves as a self-confidence boosting thing.
There's a lot of women out there that are in love with that whole Marilyn Monroe look and they want to feel like that and look like that . There are no judgments with our shoots. We will work with anyone - even cross dressers and drag queens.
Do you see a change in some of these women when they put on the costumes?
I see a change in all of the women. They definitely become more confident when they get in the costumes. They come in just blah, blah, blah or even very nervous and they leave with a huge smile. They always leave excited. And they leave with the makeup on unless they're hiding it from their husbands as a gift .
It's a huge ego boost to see yourself so made up and glamorous. You get to be somebody else for a while. And for those two hours, it's all about you. You're just pampered. And when you get the prints you see how gorgeous you look!
Do the photos, or the models, ever surprise you?
Yes! I mean there's women you would think are very reserved and they come out of their shell and they shock me. I had a woman over Valentine's day -- she sort of looked like a schoolteacher from Little House on the Prairie and by the end she looked like this vixen!

There was a woman -- kind of plus size and I thought she was going to want to cover up more but she was so comfortable. She sent me a note later that said "thank you for making me feel pretty." I think it's important that women who don't feel good about themselves get the chance to feel good and realize that they don't have to be 100 pounds. They can still be beautiful at their own size.
What is a session like?
I have costumes and wigs -- or you can bring your own. I also have plus size costumes. I've become a master at posing people to hide what they want to hide . I can also do photo-shopping so you don't have to come in feeling perfect.
Usually these women have never modeled before, so I coach them the whole time on posing and facial expressions. I'll say something like, "OK, pretend there's a sailor on the other boat and you're trying to get his attention." Or, "Pretend your husband is really, really late coming home from work and you're just disgusted."
Some of the photos show a lot of skin-- and it's all pretty seductive. Do you ever get uncomfortable with it?
No. I'm so worried about getting the perfect lighting, pose, hair -- so for me I'm so focused on all of that, I don't even see nude skin. And only 2 person of the women ask to do topless or any kind of nude. Still it's part of the reason I'm glad i have an all female staff so the women who come in for pictures don't have to feel uncomfortable.
This interview has been edited and condensed.
Lorraine's new pin-up art show open's this Friday at the Albany 1st Friday exhibit at The Fuze Box. It will be up all through March. You can also see her photos at permanent exhibits at Red Square in Albany and Bread and Jam Cafe in Cohoes.
Here are a few more of her photos:
Plus Size Pin-up


Lorraine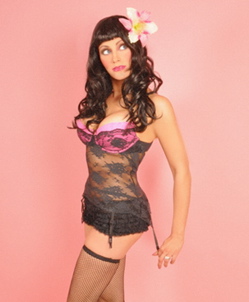 Say Something!
We'd really like you to take part in the conversation here at All Over Albany. But we do have a few rules here. Don't worry, they're easy. The first: be kind. The second: treat everyone else with the same respect you'd like to see in return. Cool? Great, post away. Comments are moderated so it might take a little while for your comment to show up. Thanks for being patient.