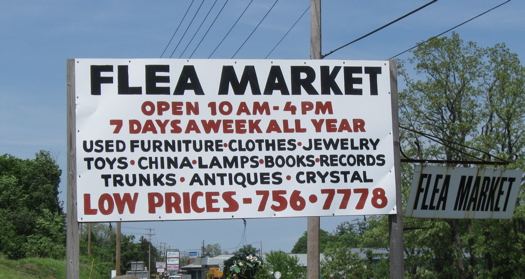 By Jessica Pasko
At first glance the Ravena Barn sort of seems like the place where unwanted items go to die -- a kind of final resting place for chipped plates, old housecoats and an entire collection of appliance how-to manuals long-since parted with their corresponding equipment.
The flea market on Rt. 9w in Ravena is lovingly and colloquially known as "the junk store,"
but I'm pretty confident you could find pretty much anything there. Anything. At. All.
If you're willing to look.
The clientele at this ramshackle market is a mix of locals, genuine shoppers and hipster-types seeking out the bizarre and macabre.
The place is just bursting at the seams with stuff. But be warned that much of this "stuff" is literally junk. Nothing is spared. If a price tag can be put on it, it will probably show up here. I found a large assortment of plungers, empty "collector's edition" soda cans and a large collage that clearly once hung on the wall in some boy named Michael's bedroom.
That said, if you're willing to take the time to look, you'll find some legitimately useful items --- I scored a few terracotta pots for dirt cheap and I spotted the Cuisinart ice cream maker I now own and love for just $8 -- along with some one-of-a-kind cool things and a few things that are definitely just worth gawking at. A friend once found a black velvet painting of Jesus here once. There was still a black velvet piece of a donkey when I visited Saturday, in case you're in the market for your own kitsch.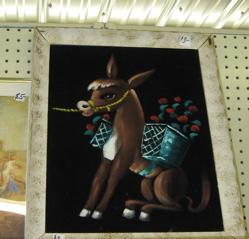 While there's a small collection of clothes for sale, I don't suggest putting much time in to searching them. I did like this watermelon-printed shirt (perfect for a summer cruise!) but I'm trying to kick my habit of buying shirts that I will likely never have the occasion to wear just because I think they're funny.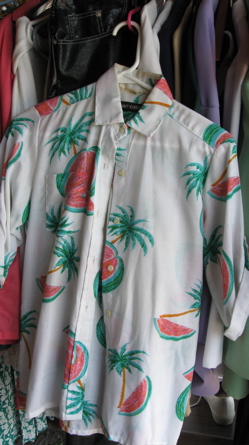 On the other hand, I might have to marry the man who can genuinely get away with wearing these fabulous two-tone men's saddle shoes.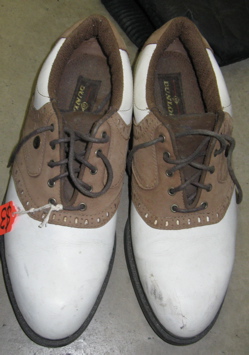 This set of brown transfer ware dishes are actually quite nice. I tend to prefer the blue or red transfer ware, but these have cool historic scenes on them.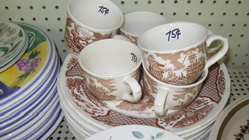 Hidden amongst the plethora of figurines (so this is where they all go to!) I also found this funky little owl-bedecked wall plaque.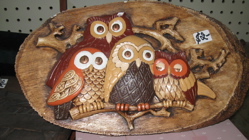 The book section is definitely worth scouring for cool old books, great images to use in art pieces and various old magazines. Copies of National Geographic are just 35 cents. I also managed to find some interesting sounding Soviet-era books, including "A Day in the Life of the Soviet Union." And if you find yourself needing some old sheet music or a gently-used bible, well, they've got that too.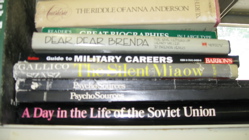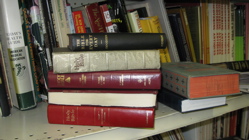 Here's the bottom line: Don't go here if you're not willing to do a little digging. The truly cool and unusual stuff is likely to be tucked away in a corner, next to the 8-tracks and the old screwdrivers. But if you're actually willing to spend a little time looking, I'm sure you'll have fun -- and find something you need to take home. This place is also sort of like a museum of American consumption it's worth a gander just for that.
Find It
The Ravena Barn
2532 US Rt. 9W
Ravena, NY 12143
Open 7 days a week
10 a.m. to 4 p.m
Say Something!
We'd really like you to take part in the conversation here at All Over Albany. But we do have a few rules here. Don't worry, they're easy. The first: be kind. The second: treat everyone else with the same respect you'd like to see in return. Cool? Great, post away. Comments are moderated so it might take a little while for your comment to show up. Thanks for being patient.