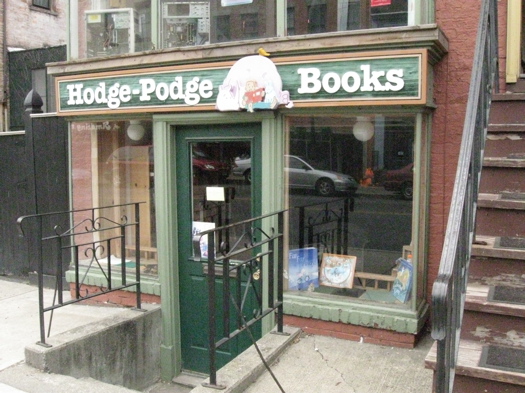 So when we heard the other day that Hodge Podge Books, the children's/young adult book shop on Lark Street was closing after 27 years, we thought "Ohhhh. It's like The Shop Around The Corner in that Meg Ryan movie. It's kind of sad."
And it is sad.
But just a little bit.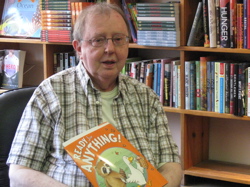 If you love children's books --or just reading -- you really should meet Frank Hodge. Frank is the owner of Hodge Podge Books. This guy is an expert on children's and young adult literature.
Expert is our word-- not his. He just says it's his love. He knew the authors of almost every book we asked him about. As in "knew them personally." He considers many of them good friends and he's brought them into local schools and introduced them, or their work to thousands of Capital Region kids. And he's got great stories. Ask him how he met E.B. White. You will not be disappointed.
For the last 27 years Frank, who teaches classes on children's literature at UAlbany, has run Hodge Podge in a 320 square foot basement storefront on Lark St. He's sells mostly to schools and teachers, and has spoken at hundreds of conferences on children's and young adult's literature. The shop was a place parents could bring kids who enjoyed reading -- or kids that were having trouble with it, and Frank would help introduce those kids to books.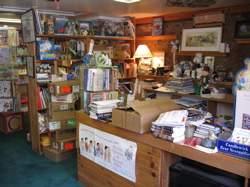 The kids, Frank says, haven't changed much in those 27 years, but Lark Street has. "The Street goes up and down. I think it's on it's way up again. We used to have some lovely little shops here. We had African Queen women's clothing, Joyelle. And we had Lark Music -- he was an institution on this street. But we have new people coming in now and it changes.
"People have said this was a strange place to open a children's bookshop, but I like it here. I'm in favor of Lark Street. I think it's a fabulous, fantastic place and I love the sense of life it has. I opened in October and no one thought I'd last past Christmas. Other stores have come and gone and I've been here for 27 years."
We have to admit, we wondered for a while if the shop was ever open. The hours have been noon to four for years now, but Frank would often open "by appointment" and pass afternoons talking with teachers, parents and children.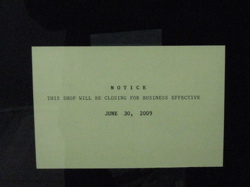 So why is he closing? Frank says the economy has taken a bite out of his business and he can't afford to keep pouring money into the shop. Yes, this is the sad part.
Lark Street is losing a shop owner who got to know kids and helped them find their way; a guy who once marched into a grade school and confronted a teacher when a young client was given a bad grade for a project Frank knew the boy worked very hard on. "The project was about Mars, and I'd suggested he do a "pen pal report" with questions and answers from a pen pal on Mars. He really tried -- and he was creative. Two of his friends got good grades, so I looked at their reports. They were copied from encyclopedias." Frank went to the teacher and threatened to go to the principal until he improved the grade. He loves the kids and the shop.
Why is it just a little bit sad? While the shop is closing, the business will continue. Frank admits to being a bit of a luddite, but he's decided to take his business entirely online. He'll operate pretty much the same way he always has - selling books to teachers and schools, speaking at conferences, bringing authors to the capital region for readings and signings and trying to connect kids with books, only he'll work out of his apartment upstairs.
Hodge Podge closes its doors at the end of June, but they've still got lots of books on the shelves. If you want to visit before it closes, but can't come by
during business hours, you can call Frank at (518) 434-0238. Or you can find them at hodge-podgebooks.com.
Find It
Hodge Podge Books
272 Lark Street
Albany, NY 12210
Say Something!
We'd really like you to take part in the conversation here at All Over Albany. But we do have a few rules here. Don't worry, they're easy. The first: be kind. The second: treat everyone else with the same respect you'd like to see in return. Cool? Great, post away. Comments are moderated so it might take a little while for your comment to show up. Thanks for being patient.