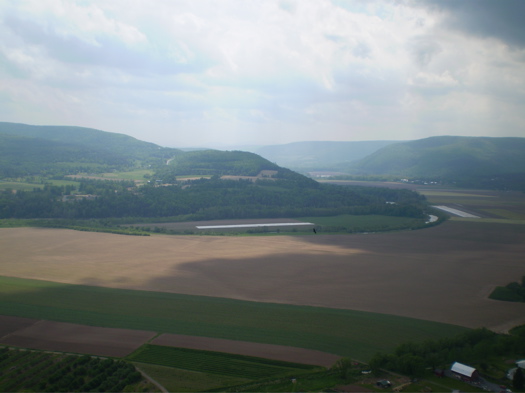 By Justin Williams
OK, so you've been working all week, and you want to get away from it all - but a full on vacation isn't in the cards. You're even too busy for a long weekend. You need a quick change of pace -- a fun filled excursion that will get you out of your familiar surroundings but have you home again the same day.
How about 12 hours in fabulous Schoharie County.
No, really. Stop laughing.
There's quite a bit in Schoharie County that's worth seeing. Here's a rough plan to help you enjoy it.
Feel free to deviate, substitute, linger in some areas and skip over others-- whatever works for you.
Saturday, 8:00 AM
Grab your coffee, put on some good traveling music and head out of Albany. You'll be in Schoharie County by 9:00. Be sure and appreciate the scenic vistas along the way. Keep driving though, we're going to head out to the furthest point and work our way back.
9:30 a.m
1) TAKE A HIKE
Just a little past the main entrance of Mine Kill State Park lies an overlook of the Mine Kill Falls . It's an awesome view, and you can actually hike down to the bottom of the falls. There's a lot of terrain in this hike as you go downhill and uphill about ¼ mile each way, so make sure you're wearing good shoes. And if you have little ones, you may want to carry them, as the rocky trail can be slippery if it's wet.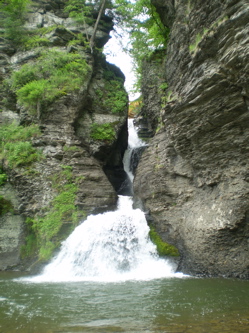 If you do go to the actual state park ($6 per car during summer, additional for pools), you'll find areas to picnic, swim and fish. You can even bring a boat and go fishing on the reservoir. But you're busy, so that's for another day
Mine Kill State Park Overlook (Free!)
161 Mine Kill State Park, North Blenheim
Hours: 7:30 am to 6:00 pm, 7 Days a week
More Information:
(518)827-6111

11 a.m.
2) TO THE MANOR
Lansing Manor is a must see if you're at all into the history of Albany, or history in general. Built by former Albany mayor John Lansing, Jr. in 1819 (yep Lansingburgh is named for him) This house has got a bunch of rare artifacts, including an original 13-starred flag and documents signed by future President John Quincy Adams and President James Monroe. Adorning the walls are pictures depicting Albany in the 1800's. One of them depicts what our Capitol building was originally supposed to look like.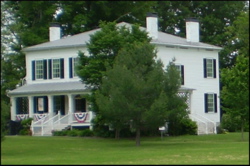 The downside here is that they don't allow any photography in most of the building. You can take pictures of the basement, but that's all. Still, there's a lot to learn. Kids over 5 would probably get a lot out of it. On weekends, tours are held every half hour or so, but if you go on a weekday, just show up and knock on the door. No, really. You'll get a friendly tour guide eager to answer any questions.
The old barn out back has been turned into an educational museum. It overlooks the reservoir and the exhibits explain how it works. The staff there is very friendly and they know what they're talking about. You can get all kinds of maps and directions to get a closer look at the reservoirs.
Hours:Open daily 10-5, except Tuesdays, May-October
More Information:
1-800-724-0309

12:00 PM
3) THE BREAKABEEN MALL
Hungry yet? Head out Rt. 30. toward the Breakabeen General Store. But if you're not absolutely starving, you may want to make a stop at the Blenheim Covered Bridge. Why? It's the longest single span wooden bridge in the world. And it's just kind of cool to look at. Take a walk down it and grab a few pictures.
4.) By 12:30 or so you can be at the Breakabeen General Store. One excited local described it as "the Breakabeen mall." Don't go looking for Crossgates. It's an independent store in a small, small town. Attached to the town liquor store, you'll find a selection of quirky antiques on the porch (old schoolhouse desks, cooking appliances, etc.). Stop and grab a sandwich or a snack. There are Boar's Head deli meats, gyros and homemade pie!
You'll also find groceries, local honey, galvanized chains, fishing supplies and even ammunition. This was one stop shopping in the days before the Wal-Mart.
Also prominent: a pretty good selection of German food. There's spaetzel,Jäger Soße and sauerkraut. It's not as random as it appears since many of Schoharie's early settlers were German.
More Information:
(518) 827-4731

1:30 p.m.
OK, here you have some options.
History junkies See 5.
Outdoorsie types move on to option 6.
Spelunkerers (or spelunking wannabees) try option 7.
5)The Old Stone Fort is a perfect stop for the Revolutionary War junkie. There are seven buildings filled with early US History. It offers some awesome artifacts, and a history of the violence that early settlers faced. But it's more than war history. You can catch a glimpse of Schoharie's first car, an early telephone, and some fun antiques toys.
Old Stone Fort ($5 Adults, $1.50 Kids 5-17, Kids under 5 free)
Hours: Tuesday- Saturdays 10-5, Sundays 12-5, May- October, Open Mondays 10-5 in July/August)

6) Vroman's Nose (free!)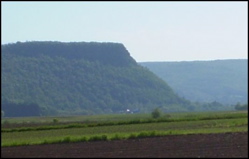 Following the sign on the left of Rt. 30, you'll find a small parking lot to the entrance of this hiking trail. It's about half an hour uphill there (and downhill back) but it's totally worth it. The view is breathtaking. You may want to bring a walking stick because there are some sharp angles on the climb. There are plenty of places along the trail to stop and rest - which will be particularly handy if you're bringing kids. This is a great workout, and you won't be disappointed!

7.) Sure, Howe Caverns has been a school field trip staple for years-- but it's still kinda cool. There are plans underway to extend the tour to make it more like the original Howe Caverns tours of the 1800's. For now the General Tour is nearly the same as it has been for the last 20 years --a boat/foot tour that takes about 80 minutes. If you're feeling more adventurous you can opt for the Lantern Tour ($27), which takes you through the darker parts of the cavern. For the real adventure geek there's a tour through previously unseen parts of the cavern. Added plus (or minus) you get to wear a pith helmet! ($108) The alternative tours require reservations and take a little longer, so for the purposes of today's "survey adventure" you may want to opt for the general tour.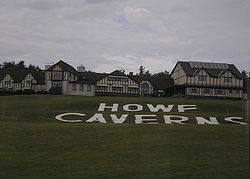 (Adults $18, Kids 12-15 $15, Kids 5-11 $10, Kids 4& under Free)
255 Discovery Drive
Howes Cave, NY 12092

5 p.m.
WHAT'S FOR DINNER?
OK, so you've had a long, educational day and you've gotten your share of fresh air and exercise. It's time to unwind and grab a little dinner before your trip home. Here are a couple of options.
8) If you, like me, are greedily anticipating some Dinosaur BBQ in the near future, a trip to Rubbin Butts BBQ may tide you over for a while. What's notable here is that they serve Carolina barbecue. What's different about it? Well, it's got a yellowish appearance and it's vinegary, which might sound weird, but it's excellent. They have the typical hickory barbecue sauce as well. They serve all the barbecue staples, but do yourself a favor and try the pulled pork.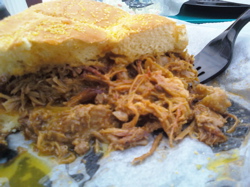 Hours: Open Daily 11am-10pm
9) Not a BBQ fan? Push on to Sharon Springs and check out The American Hotel
in Sharon Springs. Chef Lee Wolve uses local ingredients to whip up some of the best food in the area. The hotel itself, restored to it's 1800's glory stands as an historic monument to the area's history. Rachael Ray is known to be a frequent guest here, and actually has featured the hotel in her TV shows and magazine. Dinner is served Thursday through Sunday, and the service is quite friendly.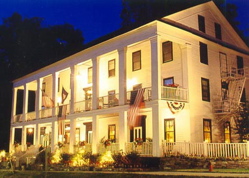 8:00 p.m.
HOMEWARD BOUND
We may have met our last stop, but that doesn't mean the trip is over! Make sure you take Rt. 20 back to Albany, as it offers a fantastic view of the Albany skyline from miles away.
Say Something!
We'd really like you to take part in the conversation here at All Over Albany. But we do have a few rules here. Don't worry, they're easy. The first: be kind. The second: treat everyone else with the same respect you'd like to see in return. Cool? Great, post away. Comments are moderated so it might take a little while for your comment to show up. Thanks for being patient.