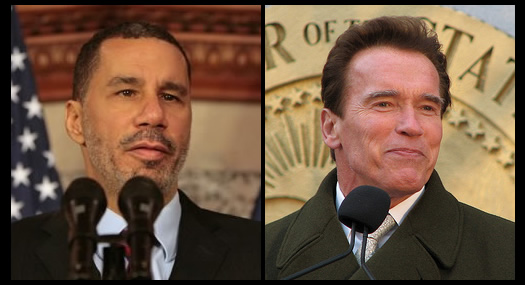 Earlier this week the LA Times pointed at New York's legislature and essentially said, "At least California's not that bad." And then both NY and CA appeared on Politco's list of worst states to govern.
OK, fine. So let's do this. Which state is the biggest loser?
Financial situation
New York: Facing a $16 billion budget gap this year, the leg and governor somehow agreed on a budget that's 9 percent bigger than last year. Now the state comptroller is warning of another gaping hole in next year's budget.
California: Facing a $26 billion budget gap this year and the state is broke. Literally. It's paying bills with IOUs.
Loser: California - at least New York is something approaching solvent.
Legislature
New York: State Senate has become paralyzed the by the actions of a billionaire who doesn't officially live here and a guy who blatantly ignores the law and refers to himself in the third person.
California: With the state teetering on the edge of a complete fiscal meltdown, the Legislature gave its staffers a pay rise. And now the Assembly speaker has been boycotting budget negotiations.
Loser: New York - our legislature is run by adult-sized children who fight over their toys
Governor
New York: David Paterson became governor because Eliot Spitzer spitzered himself. Paterson often appears ineffectual. And he may very well be the least popular governor in the country.
California: Arnold Schwarzenegger became governor after Grey Davis was recalled. The Governator started out on a wave of popularity as he plotted a moderate path. Now his state's in the tank, he's hot tubbing with a stogie and his poll numbers are going down the drain.
Loser: New York - the Governator can at least claim he steered the ship competently for a few years. And he looks a heck of a lot better in running shorts.
Gubernatorial hopeful
New York: Andrew Cuomo, the front-runner in the hypothetical field, is letting Paterson self-destruct so he can swoop in next year. He has federal Cabinet-level experience and appears to be a competent AG. Potential first lady Sandra Lee is a self-described drag queen.
California: Gavin Newsom, the mayor of San Francisco, is young and GQ-handsome. He was a successful wine entrepreneur. He's been a leading supporter of gay marriage. And he nearly killed his political career by having an affair with the wife of his campaign manager, one of his best friends.
Loser: Push
Citizens
New York: We keep electing the same bozos to run the state.
California: Golden Staters don't seem too keen on raising taxes or capping spending -- even though the state is out of money.
Loser: California, narrowly -- we just don't get a whole lot of choice here in New York.
Environmental problem
New York: It won't stop raining.
California: It won't rain. The ground shakes.
Loser: California -- sunshine is nice, but we'll pass on the draught and earthquakes.
Result: California loses 3-2-1
It's not really fair to say that New York won here -- it just didn't lose. Both of these states have a lot of work to do.

Schwarzenegger photo: Flickr user Ambidanze
Say Something!
We'd really like you to take part in the conversation here at All Over Albany. But we do have a few rules here. Don't worry, they're easy. The first: be kind. The second: treat everyone else with the same respect you'd like to see in return. Cool? Great, post away. Comments are moderated so it might take a little while for your comment to show up. Thanks for being patient.