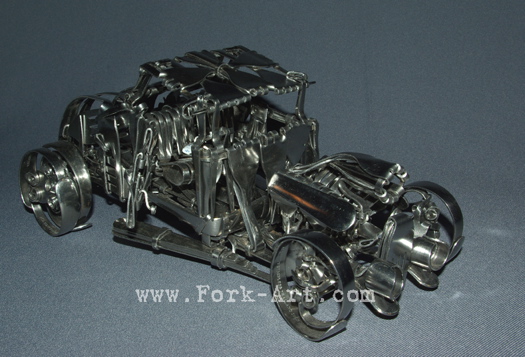 By Jessica Pasko
When your parents told you not to play with your food, they probably meant the utensils too. But what if they knew you could make a living at it. Really.
At this year's Tulipfest and Art on Lark events, I spotted this very cool art made entirely of forks.
Just bent forks.
No glue, no soldering, no Matrix-like powers -- just a pair of pliers.
Artist Matthew Bartik says the idea for Fork Art was spawned in his college days. Back when he was a student at SUNY New Paltz, a lot of time was spent and the dining hall, and because the food there was so bad, he and his friends started getting a little creative. That led to sculptures made with food and dining hall utensils.
An assignment for his 3-D art class seemed ready made for forks, and thus his first fork sculpture -- which combined the utensils with a large fish tank and 100 goldfish -- was born. Pretty soon he was making all sorts of fork sculptures. He started selling them on the street in New York City.
After graduating with his B.A. in fine arts with a concentration in visual arts, Bartik turned to fork art full time. Yep, bending forks has become a full time job. These days he works out of a studio in Schenectady County and divides his time between there and New Paltz, where he stays when he's selling art down in the city.
Bartik's moved past the days of using dining hall forks. These days he orders the utensils by the caseload from a purveyor so they're all the same size and shape. One piece can use more that 300 or 400 forks.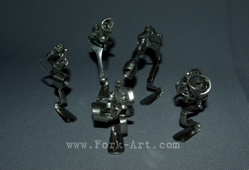 In addition to selling at events like Art on Lark and other similar festivals, Bartik does commission work. Right now he's working on a World War I naval gunner and he's about to start a full stage coach with a team horses that will stretch about eight to ten feet long. Yeah -- all out of forks.
Most of his pieces are a little smaller than that.
Oh, and it gets better. Bartik even does birthday parties and bar mitzvahs for high-end clients in New York City. Think balloon artist, but cooler because instead of a clown making balloon animals that will pop or deflate, it's a guy bending forks into all sorts of creatures.
If you're interested in scoring your own fork art, bracelets and small pieces typically start as low as $10 to $20. Of course, if you wanted, say, a replica of the U.S.S. Slater , that's probably going to cost you more.
Hi there. Comments have been closed for this item. Still have something to say? Contact us.