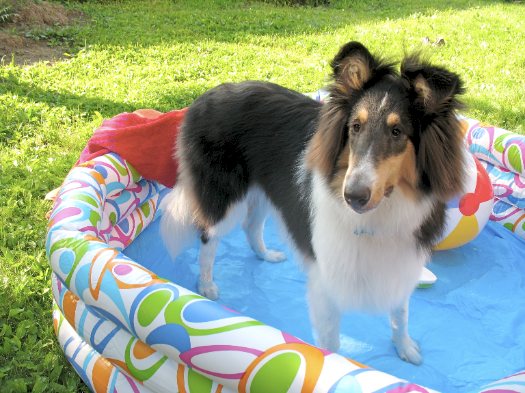 By Kim Wingfield
Yes, we got royally cheated out of the first third of summer here in the Capital District. 
However, it's now mid July, it's getting sunnier and warmer and it looks like it's going to stay this way for a while.

So if you got disgusted and threw out your summer gear last month because either a.) you couldn't fit it on the ark you were building, or b.) it got moldy, here's where you can pick up all your summer essentials for under $50.
Bathing Suits :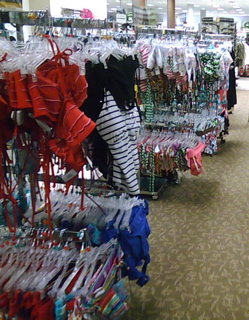 Funny thing about bathing suits; they hit the shelves at the tail end of the season known here in Upstate NY as " still winter," when most of us not only still have some extra poundage on for insulation and we're not ready to get rid of our nice, warm, multiple layers of elemental protection in order to try on a garment generally worn in decidedly warmer temps.  The upside to this head-scratching phenomenon is that when the warmer temps actually arrive in the area and we're no longer walking like penguins, you can get a nice suit for a fraction of what most retailers charged back when you were still trying to dig your way out of the latest snowstorm. 
One of the best places to get a really good-quality swimsuit for both guys and gals at a great price is actually at Sears.  Yep, Sears.    I saw both men's and women's swimsuits in plenty of different colors, styles, and cuts for different body types on a quick look around, and most of them were only $14.99.  Yep, $15 for a good swimsuit.  Some of the men's swim trunks at that price even came with a free pair of flip-flops.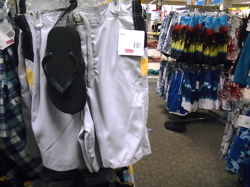 Sunblock:Â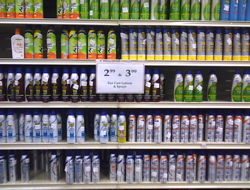 The two best places to pick this up are at the Christmas Tree Shops in Colonie Center and the Dollar Tree locations around the region.  The Dollar Tree sells perfectly good SPF 30 sunblock for just a buck a tube, but all of their varieties contain fragrance, as do most brands.  For me, that's just begging for an allergy attack.  If you're like me and need a fragrance-free sunblock that offers your vampiric skin some strong protection from that shining ball of gas in the sky, Christmas Tree Shop has an entire wall of sunblock for sale at about half to two-thirds of what most places charge.  CTS's huge stock of sunblock heavily features the Banana Boat brand, which is delightfully fragrance-free, effective, potent, and non-greasy.  While I've seen Banana Boat for sale at $8 and up in Target/Wal-Mart, CTS consistently has it for about $5 and under.
 
Insect Repellent: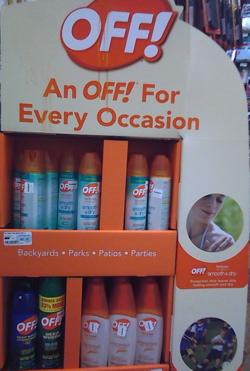 Going with Christmas Tree Shops again, here.  They have plenty of excellent brands of mosquito repellent for about $6 apiece (including Off Skintastic, which usually runs a few dollars more than that at most retailers,) and they also sell some citronella mosquito-repellent tiki torches for around $13.  (However, Dollar Tree has similar citronella torches for a buck each.)  I don't have an apartment with yard space, so I can't compare/contrast the effectiveness of one torch vs. another, but since my experiences with Dollar Tree have been pretty positive, I'm willing to bet that their citronella torches work just fine.
 
Sunglasses:Â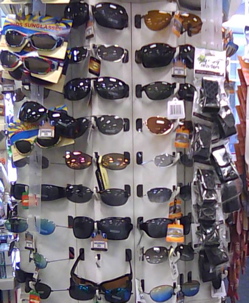 I have terribly bad luck with sunglasses; I don't think I've ever had a pair last longer than a year before I somehow break them.  I've been really, really happy with the Dollar Tree sunglasses for a buck; they work terrifically, and there's a bunch of different styles and sizes.  Crossgates Mall also has a cart near the food court that carries 2/$10 designer knockoff sunglasses that are also quite effective, stylish, and inexpensive.  However, if you have particularly light-sensitive eyes, I recommend getting a pair of Blu-Blockers.  The Phillips Hardware stores around the area sometimes carry Blu-Blockers for $5/each, (you might want to call ahead to check if they have them in stock.)  They really do block out a lot more glare than the standard UV-protection shades.
 
Beach Towels: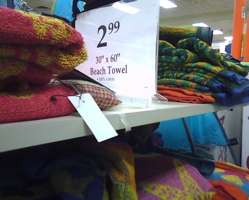 If you're just looking for a nice beach towel to lay on while you read a book/listen to music while sunbathing, Christmas Tree Shops has a ton of them for $2.99.  If you wanted to stock up, here's a great place to do that!
 
Summer Extras:
Beach umbrellas that clip onto your chair can be had at Christmas Tree Shops for about $6, beach toys for the kids (and the kids- at-heart,) can be had for a buck each at the Dollar Tree, inflatable pool toys and rafts of varying sizes run between $5-$13 each at CTS, and CTS also has a huge stock of .59 flip-flop pairs.  Yep, fifty-nine cents for a pair of flip-flops!
 
 

  

Say Something!
We'd really like you to take part in the conversation here at All Over Albany. But we do have a few rules here. Don't worry, they're easy. The first: be kind. The second: treat everyone else with the same respect you'd like to see in return. Cool? Great, post away. Comments are moderated so it might take a little while for your comment to show up. Thanks for being patient.