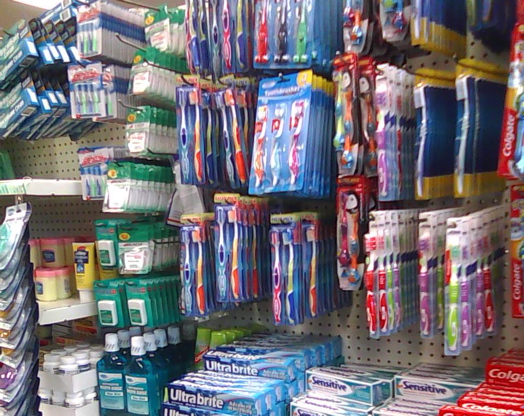 By Kim Wingfield
OK, so it's a rough economy and most of us are trying to find ways to cut back on anything possible. 
Necessary?  Sure.  Sucktastic?  It doesn't have to be.
Toiletries are a good place to start. It's amazing how quickly those little items can add up and break your budget. If you're like me, and have a particular kind of product that you don't want to sacrifice (i.e. pricey makeup, special haircare products), it's a lot easier to find space in your budget for that occasional splurge when you're saving a bunch on the rest of your toiletries.
I've found a really painless way to slash the costs on these little necessary expenditures: dollar stores. 
No, really.
You can get nearly all the toiletries you need in a dollar store for $26.
I happen to be particularly partial to the Dollar Tree chain; the stores tend to be clean, well-lit, well-stocked, and pleasant to shop in. You can pretty consistently get in and out of the store with your purchases in ten minutes. And there are Dollar Trees all over the Capital Region.
Most of the products there are basically the same quality as the generic brands you'd find in any big chain store or supermarket, sometimes they're even brand names.
Are you going to find high end salon stuff for a buck? No. But there is no free lunch, either. What will you find?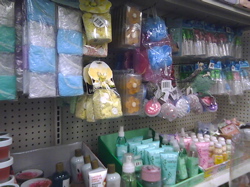 They have knockoffs of Lubriderm, Vaseline Intensive Care, and Baby Magic lotions but occasionally you'll see a national brand. They tend to carry V05 shampoo, and they usually have some Pantene. V05 can vary from .88 to $1.05 in grocery stores so the $1 price (everything in the DT is indeed just a buck) is comparable to what you'd pay for it elsewhere. Pantene, on the other hand goes about $4.99 for a 12-oz. bottle at CVS. The sizes that are in the DT are generally all the same sizes that other stores carry. Other name brands I've seen at Dollar Tree include Softsoap, Aim and Crest toothpastes, ($1 vs. $2.00 for Aim and $3.50 for Crest at CVS,) and Irish Spring soap, which is usually sold by the 3-pack for a buck, as opposed to $2.99 at CVS and Price Chopper.
Generally, the rest of the toiletries are generic, but I've got hyper-sensitive skin and have never had a problem with them.
So if you can forgo the brand label what can you cart home for 26 bucks? Here's a sample cart:
Body lotion, dental floss, mouthwash, toothbrush (pack of 2 to 4,) toothpaste, deodorant, face wash, moisturizer, makeup removal wipes, hairbrush, shampoo, conditioner, soap/body wash, bath pouf, lip balm, hand soap, razors (usually in packs of 5-10,) shaving cream, cotton balls, band-aids, aspirin, Tums, tweezers, and nail files.  Total cost of 24 items at a buck each, with 8% sales tax added in?  $25.92.  For most single people, the bulk of the items on that shopping list will last at least 6-8 weeks before needing to be replaced, putting your basic toiletry expenditures per month at well under $20. 
So if you can part with the brand name stuff, give it a whirl. Your wallet will thank you later. 
Say Something!
We'd really like you to take part in the conversation here at All Over Albany. But we do have a few rules here. Don't worry, they're easy. The first: be kind. The second: treat everyone else with the same respect you'd like to see in return. Cool? Great, post away. Comments are moderated so it might take a little while for your comment to show up. Thanks for being patient.