By Arielle Trimm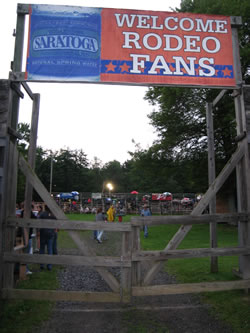 So when I saw an ad for the Double M Western Professional Rodeo in Ballston Spa, I was a) puzzled and b) concerned.
Concerned for the welfare of the animals. Puzzled because, well - you know -- the rodeo? Really? In upstate New York?
I wanted to check all this out for myself, so it was off to the rodeo...
Yee-ha!
Umm, whoa -- culture shock! Country music, horse trailers, cowboy hats, cowboy boots, shirt tassels, fancy belt buckles and a few genuine southern accents filled the stands. "Toto, I don't think we're in Ballston Spa anymore." The Double M arena may be half an hour from Albany, but it feels a little like Texas. Competitors actually come in from all over the country, and one contestant I saw had traveled all the way from Brazil.
The animals
So what about the animals?
It turns out the Double M Western belongs to the Professional Rodeo Cowboys Association. The PRCA demands that animal safety experts and veterinarians be on site during every show. Also, all animals must be examined before and after the rodeo. If there's any sign of mistreatment, contestants are disqualified, reported and often fined. And those are just a few of their 60+ mandatory animal safety guidelines.
Okay, but I've heard horror stories about how they make bulls buck. How do they do that without hurting them? The American Veterinary Medical Association published an article saying that at PRCA rodeos:
"..a narrow cotton rope is placed around the bull's abdomen like a belt. It is not pulled tight, nor is it attached to the genital region, and it provides a 'tickle' stimulus that causes the bull to buck."
The PRCA seems pretty serious about protecting their animals. They've even banned some of the traditional rodeo events.
The show


Once things got going, I worried less about the animals and more about the humans. Bulls threw riders around like a rag dolls (see the clip above), and I held my breath when they finally hit the ground. Rodeo clowns distracted the animal so the riders wouldn't get trampled. I knew it was nuts -- and I just couldn't look away.
Then there were roping events. That's where horse-mounted contestants lasso the horns and/or hoof of a running calf. Again, the PRCA requires a ton of safeguards. At worst, a calf is temporarily immobilized. At best, it was completely oblivious to the rope. Either way, the calves always trotted off unharmed.
One contestant gave up because he knew his lasso wasn't on right, and he didn't want to injure the calf. So there went his entry fee. There went his travel expenses. There went his chances of winning a cash prize. I was impressed.
Professional rodeo clowns entertain the crowd during half time. Their jokes were dumb and their routine was so silly -- but I was still laughing. There was the youth barrel event, where children as young as seven take turns racing their horses around barrels, and the fans who ring cow bells while they hoot and holler for their favorite contestant. The whole experience was so much fun. I'm definitely going back.
The bottom line
The Double M Western Professional Rodeo isn't a western themed animal show. It's the real deal. The AVMA says with all the precautions taken at a PRCA rodeo, the chance of an animal being hurt are 0.0004%. The humans -- well, that's another story. But hey, they choose to do it.
This is an authentic western experience right here at home. It is family-friendly with lots of extras for the kids. But I'd suggest waiting until your child is grade school age, as the outdoor bleachers aren't designed for the very young.
The rodeo starts at 8 pm on Fridays through September 4 (there's a barbecue at 6 pm). Tickets are $15 for adults, $5 for kids. You can save a few bucks buying ahead of time.
Find It
Double M Rodeo
678 State Route 67
Ballston Spa, NY 12020
Say Something!
We'd really like you to take part in the conversation here at All Over Albany. But we do have a few rules here. Don't worry, they're easy. The first: be kind. The second: treat everyone else with the same respect you'd like to see in return. Cool? Great, post away. Comments are moderated so it might take a little while for your comment to show up. Thanks for being patient.