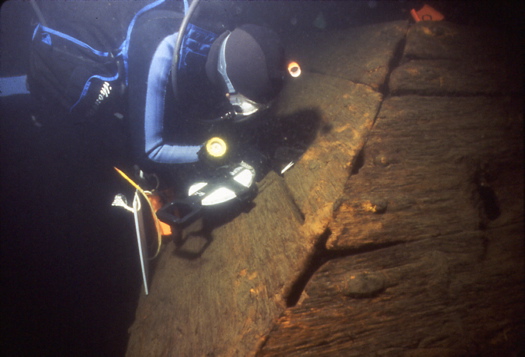 When we heard there was a shipwreck in the middle of Lake George we kind of went, "Waitaminute, what?"
But there is, in fact, a shipwreck in Lake George. Joe Zarzynski told us so. Zarzynski is a former high school social studies teacher turned underwater archeologist. In the 1980's he spent most of his free time chasing the Loch Ness Monster and Champ -Lake Champlain's version of the Nessie.
He stopped actively looking for underwater "monsters" in the early 90's and focused on shipwrecks instead. The shipwrecks were easier to find because-- you know-- they don't move.
Zarzynski says there are actually lots of shipwrecks in Lake George -- more than 200. And he's helped to find a lot of them. But the most impressive wreck he's found is The Lost Radeau a floating bastion from the French and Indian War -- that rests more than 100 feet below the surface of the lake. Now, thanks to his efforts, you can see it too - just be sure to bring your wet suit.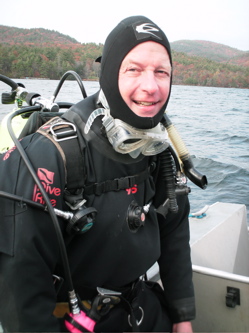 What is the lost Radeau?
The Radeau is a 250 year old shipwreck-- almost completely intact-- that looks like something made by Hollywood. And it's in the middle of Lake George.
It was part of the sunken fleet of 1758. In 1757 Fort William Henry was destroyed in the French and Indian War so in 1758 there was no fort to protect the British fleet in the winter time. The British purposely sunk some of their own vessels in shallow water to protect them from the French, with the idea that later they'd use manpower and engineering to raise them. Most of them were smaller vessels called bateaux which were made in Albany and Schenectady (the bateaux factory in Schenectady was right across from Schenectady Community College).
But the Radeau or "Land Tortoise" was much bigger. It's a 52 foot floating battalion. It's like a fort. It was designed to protect the rowers and the gunners. It has 7 sides and the angles deflected cannonballs and musket fire. Today the same shape deflects radar. If you look at modern day warships, the weapons are not outside, they are hidden-- like they are on the Radeau. We like to think of it as a Da Vinci type vessel from 1758. They weren't able to raise it. It sunk more than 100 feet below the surface of the lake. Basically it's in a refrigerator. It's perfectly preserved like that piece of food that sits in the back of your fridge.
How did you find it?
There was a lot of serendipity. I'm the Executive Director of a not for profit corporation called Bateaux Below, which studies and helps preserve shipwrecks. We knew some of the smaller 30-35 foot bateaux were out in Lake George. One day back in 1990 we were out looking for them with sonar equipment. When it was time to come in we decided to just leave the sonar equipment down for the return trip. Minutes before the end of the trip it detected something with seven sides. Nature doesn't make anything with seven sides, so we knew it had to be something man made. We never imagined in our wildest dreams that the Radeau had survived. We thought it had washed away and maybe became a hulk on shore and just disappeared.
We worked for years to get it declared an underwater State Park. Now we're working to let people know about it and make sure they take care of it. We've spent years mapping it. It's now on the National Register of Historic Places and it's one of only six (shipwrecks) in the country to be designated a National Historic Landmark.
It's an underwater state park? How can we see it?
If you're on Million Dollar Beach at Lake George and you look about a mile and a half to the north there's a big white mooring buoy-- that's the buoy that marks this site.
You have to be a licensed diver to see it in person. About 125 or so divers a year register to dive it. It's a deep dive, so you have to register. If you're not a diver, you can watch the documentary we made about it called "The Lost Radeau" .
Also at the end of August there's going to be this really cool tri-exhibit. We've joined forces with a scientist and an artist in something called Raising the Fleet : the art/ science initiative. The art is based on the miniature images of the shipwreck. Protozoa that live in the sediment and crawl around shipwrecks are introduced onto the miniature drawings. It's a combination of art and science and it really pushes the envelope. The art will be on display in The Courthouse Gallery in Lake George, divers will be able to see some of it on special easels around the shipwreck and folks who can't get to these sites will be able to see the exhibit on-line.
Shipwrecks and lake monsters are kind of an extreme hobby. Why do you do this?
I guess I could be mowing my lawn-- but I'd rather be doing this. I make over 100 dives a year-- not just in Lake George. But with the Radeau, it's like a child, you know? And you want to make sure this child is going to be taken care of and have longevity. The people I work with --they're kind of like my family. And my living room is underwater.

You spent more than ten years chasing lake monsters before you started chasing shipwrecks. Did people treat you like you were, you know, a little crazy?
Oh yeah! Sure, a lot of people thought I was crazy for chasing Champ. Even when I tell people I study shipwrecks a lot of them look at me like I'm crazy. But these things tell us an an awful lot about our world and ourselves as a species as we try to give meaning to things we don't understand.
I taught history -- and our history books have many missing pages. Archeology is a good way to fill in some of those missing pages or test the historical record. It's not so much about the artifact or cultural icon you find, it's what that item tells us about people of the past. I'm curious about these people in Lake George who 250 years ago rode these vessels and why they were there and the hardships tha they endured and I think that these pieces of wood give us insight into that .
The final frontier isn't space, it's our larger lakes and oceans. And hopefully this will help the fund for human knowledge.
Want to see more? Here's the trailer for The Lost Radeu:
Photo credits:
Top photo: Dr. Russ Bellico/Bateaux Below, Inc.
Inside photo of Joe Zarzynski: Steve Resler/Bateaux Below, Inc.
Still image from animation in the documentary "The Lost Radeau." The image shows how the 1758 LAND TORTOISE radeau warship, a British and provinical warship on Lake George during the French & Indian War War, might have looked while being rowed. (credit: John Whitesel/Pepe Productions)
Say Something!
We'd really like you to take part in the conversation here at All Over Albany. But we do have a few rules here. Don't worry, they're easy. The first: be kind. The second: treat everyone else with the same respect you'd like to see in return. Cool? Great, post away. Comments are moderated so it might take a little while for your comment to show up. Thanks for being patient.