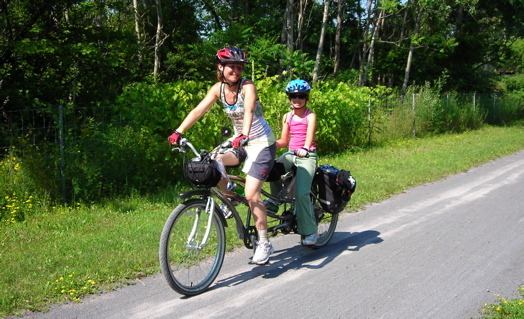 We'd like to bike more in the Capital Region. Really, we would. But frankly, we're a bit, well, chicken. OK, maybe not exactly chicken. It's just that riding a bike in an area with few bike lanes and often-inconsiderate drivers seems a bit hazardous.
Which is why Tamara Flanders new class on how to "drive" a bike looked interesting to us. Flanders is a holistic health teacher who added a class for novice adult cyclists to her repertoire this spring.
Why did you decide to teach this class?
It was actually my mother's idea. My ten-year-old daughter and I bike together a lot. We've taken a few tandem rides across New York State. My mother saw us having so much fun and wanted to try herself. But she was too embarrassed to ride with people who were more skilled and she didn't know a lot of he basics. But she would ride with me -- and I taught her.
There are lots of people like that, who want to ride but maybe are too nervous or too embarrassed to get in on a class with experienced cyclists. There are lots of classes for more experienced folks who want to get into racing, but not many for novice adults. I took one when I started riding with my daughter a few years ago and I found it very empowering. I think classes like this could get a lot of people started in late in life cycling.
What's the difference between driving your bike and riding your bike?
When I think of riding your bike I think about going on back trails. Driving your bike means following the roadways and the rules -- taking the responsibility for using your bike as a vehicle. It's traveling safely and effectively when you're sharing the street with cars.
But isn't a lot of this just common sense?
You would think so, but not always. It kind of depends on the person. I see people doing dangerous things all the time -- darting into the street, making unsafe lane changes. And then there are the cars swerving into the bike lanes.
People talk to me about driving their bikes and they're like "don't you just look for cars and squeeze in where you can?" There's a lot more to it. And it's very empowering to know how to do things correctly. I took a class several years ago when I started riding with my daughter. There are about five of us now that teach in the Capital Region.
So what exactly do you teach?
I always start with bike safety -- doing safety checks and how to change tires, how to do hand signals and scan over your shoulder so you can change lanes, safe gear shifting and changing lanes, how to communicate with cars around you, bike maintenance and city navigation. A lot of novices are just learning how to use their bikes -- how to use gears to climb a hill, emergency stops and turns, how to dodge objects in your path.
I also teach kids and I've offered my class to schools that teach drivers' ed, so that motorists can learn how to safely share the road with cyclists.
What are the biggest mistakes you see Capital Region cyclists make?
Riding on the wrong side of the street is one. Always ride on the right with the flow of traffic. A lot of us were taught that you should ride facing traffic and some people do it because they don't know how to cross a street. Also, adults riding on the sidewalk. Legally you can't ride on sidewalk after you're 12 years old.
And not wearing helmets is a huge mistake. I see more adults than kids cycling without a helmet.
What are some of the safest/least-safe roads to bike in the Capital Region.
Central Ave is difficult for sure -- pot holes, construction and a lot of drivers who are not excited about sharing the road. And there's not always going to be a bike lane -- there's debris in the streets. I know they're working on it, though, and it's getting better.
I have to say that after cycling across the state that our bike paths here are the best maintained in the state. Many of the trails around New York state are made of gravel.
The trails here are nice and there are a lot of them. Between Niiskayuna and Clifton Park there's the River Road loop that follows the Mohawk River -- beautiful rolling hills. And there are tons of bike paths in Albany, Troy and Schenectady. There's a nice 20-mile loop where you can go from Schenectady County Community College out to Pattersonville all along the Mohawk and it's mostly a flat ride. It's actively used for bike commuting.
This interview has been edited and condensed.

Say Something!
We'd really like you to take part in the conversation here at All Over Albany. But we do have a few rules here. Don't worry, they're easy. The first: be kind. The second: treat everyone else with the same respect you'd like to see in return. Cool? Great, post away. Comments are moderated so it might take a little while for your comment to show up. Thanks for being patient.