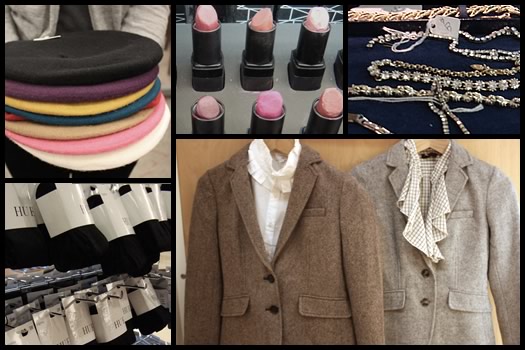 By Kaitlin Resler
Everyone waits for fall. At least in this area, where the leaves are gorgeous and crispy, and where we bring visiting friends and relatives on day trips to get cider donuts and take car rides on to walk around leaf-strewn streets.
Even though we love summer dearly, the poor soggy thing it was, one has to admit the dressing for fall in Upstate is one of the most exciting and challenging (wind!) activities season-wise (just try not to think of the coming snow banks, apologies for the reminder).
While shopping for totally new pieces is one of the highlights, this year the necessary items for fall are mostly in the accessories category, perhaps to help us all stretch out budget and revamp the wardrobes we already have.
Here are this year's 5 fall essentials for women:
Red lipstick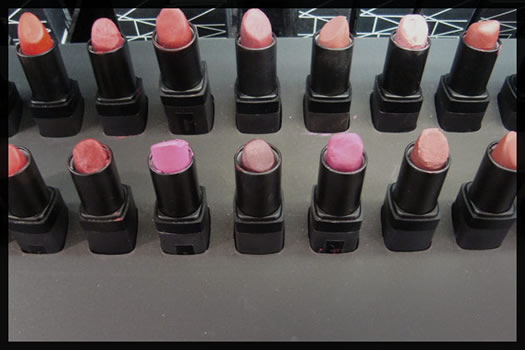 For the past few seasons bold lips were a huge hot item. I tend to favor really deep, dark, ominous purples (even though they're a bit gothic and alienating), and then there are those insane shades of fuschia that are mildly frightening but also deliciously Barbie-pink. Great as those are, it seems the most versatile lip color is still red. A little obvious? Maybe, but its colored almost every era. The silhouettes might change, but a red lip remains. Between Sephora and Macy's, there are definitely enough shades to go around. MAC's Russian Red is still awesome, especially because of it's staying power, but the Nars counter at Sephora has a range of reds. (Pictured: Nars Satin Lipsticks, 24$, Sephora)
Tweed blazers
Last year I bought a tweed blazer. I always wanted one, because I like menswear, and also that vaguely collegiate fashion that involves tweed, boiled wool and almost-dreary fall textures. These funny little tweed blazers are out in full force again, and finally they're coming in nice cuts that are slim at the waist. It is most fun to look professorial in the fall. Tweed is always awesome and always bookish. It is trendy, and classic, and goes with everything-- at least as far as I am concerned. It's a little bit of boy's club mixed with a bit of structure, history, and all that jazz. Try the mens department, because as Yves St. Laurent advised the Russian women: buy your husband a camel coat and then wear it yourself with a belt. (Pictured: Gap, 69.99)
The half-a-thing: Girly, ruffly blouses. Perfect for under the aforementioned tweed blazer, and with just about any other outfit, ruffled cotton blouses with understated prints are the love of my life. Ideal ones have a vintage, effortless feel that "girls up" the boyfriend edge of a borrowed blazer or slim trouser (Pictured: Gap, 59.50$)
Berets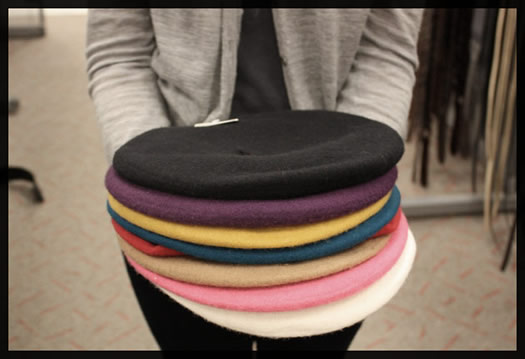 I swear, this isn't a stupid and obvious choice. Most of us want to be jauntily French. (Debate this fact all you want, but deep inside, you know it's a little true. It's why we wear striped shirts) So, a beret is a natural step in this direction. They're a nice fall hat because they don't cover too much of the head making you look ridiculous when it's only brisk out, but in wool they'll keep you nice and toasty. Added bonus if you have blunt bangs, which can stick out of the front and make it look like you just happened to toss on this adorably slouchy yet classic hat. A month later, when eighty thousand feet of snow has been unceremoniously dumped on top of our brisk autumnal weather, you can yank the beret down over ears and forehead and stay warm. Target has piles, and piles of berets in colors that make me hungry. H&M as well usually provides a nice chapeau, but the Target ones seem to be a bit better quality this year. (Pictured: Target, 12.99$)
Black tights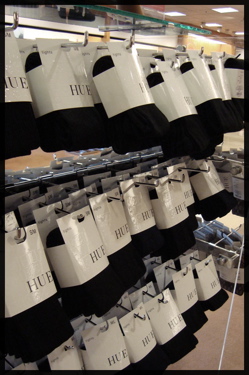 If I was going to form a club in which I would always be a member and wouldn't skimp out on meetings, it would be the Black Tights Save Any Outfit and Are Awesome Club. I love colors, and there is little more satisfying than shrink-wrapping one's legs in a shocking color, but at the end of the day black tights are your best friend. They ground an outfit, for lack of a better phrase, somehow pulling it altogether. Black tights and cream or white dresses is ideal, whimsical, and basically perfection. They can simultaneously dress up an outfit, or dress it down. Not to mention, they let us drag out favorite, bedraggled and abused sun-dress far into the cooler weather. Essential for fall because suddenly we can cover our legs again, and run through leaves (not thinking about slugs or other grotesque objects possibly lurking in the piles) and wear the tiniest skirts without a care in the world (black tights, unlike colors, somehow make short skirts decidedly less scandalous). Just make sure they're opaque, to keep those gams warm and on trend. (Pictured: Hue, 12.50$, Macy's)
Vintage rhinestone jewelry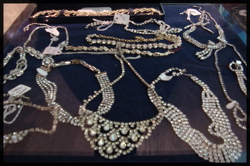 Specifically vintage, because there is a certain kind of aged look to vintage jewelry that lends that slightly sinister edge to fall clothing. So many magazines, trends, shows are using an antiques and vintage inspired pieces to add romance and occasionally a weird kind of gothic decadence that is a fall aesthetic almost every year. Not to mention, the occasionally over-the-top glitz of these necklaces look like little treasures nesting in the ruffles of a frilly blouse, paired with other pieces such as cardigans and black tights to dress them down. Most vintage stores have a nice variety of this jewelry at various prices, although you might get lucky at estate sales or the occasional thrift store. (Pictured: Capital Costumes Vintage Rhinestone Necklaces, price varies)
Tomorrow: 5 Fall necessities for men.
Kaitlin chronicles her exquisite personal style at All This Happiness.
Say Something!
We'd really like you to take part in the conversation here at All Over Albany. But we do have a few rules here. Don't worry, they're easy. The first: be kind. The second: treat everyone else with the same respect you'd like to see in return. Cool? Great, post away. Comments are moderated so it might take a little while for your comment to show up. Thanks for being patient.