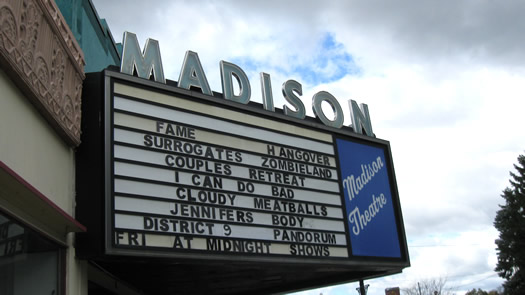 By Jessica Pasko
Albany-based filmmaker Jeff Burns loved listening to film podcasts, but couldn't find exactly what he was looking for. So he created one of his own.
With friend and fellow filmmaker Jay Ruzicka, Burns started "The Everything Film Show" in April. Since then, the show has featured interviews with directors, producers and other people in the film business -- both national and local.
Burns and Ruzicka -- a film student at RIT -- have a goofy, joking repertoire that often makes you feel like you're listening in on a conversation with two buddies - which is kind of what you're doing. They make fun of each other constantly. And they manage to avoid seeming too clique-y or full of inside jokes.
The show's a little geeky, but also informative and fun. Each week, for instance, the two put together a a Top 5 list, such as "top 5 superhero movies" or "top 5 female action stars." In another episode, sometime co-host Mark Pezzula will join in, sharing such things as his opinions on a sneak preview of the movie Avatar. Other episodes might focus on the new crop of fall films, or the best of book-to-movie adaptations or even an all zombie-film episode.
The two hosts are perhaps at their best when they're doing interviews. One of their favorite conversations was with Eduardo Sanchez, who co-directed The Blair Witch Project. Sanchez liked the show's spirit so much that he even came back for a second show just last week to discuss his new movie The Seventh Moon. As a major horror movie buff, Ruzicka says talking to Sanchez was especially cool for him as well as for the show. And what made Sanchez's first appearance extra exciting was that he officially announced a third "Blair Witch" movie, an announcement TEFS hosts say some film Web sites actually picked up from their podcast. Another good one was the interview with documentary filmmaker Justin Maine.
The duo also ran an interview with Andrew Robinson, a survivor of the Columbine shootings who later made a film called April Showers that was loosely based on the shootings. Tennyson Bardwell -- director of The Skeptic, which was filmed in Saratoga Springs -- was another popular guest.
One thing that makes "The Everything Film Show" kind of cool in my book is that they really seem to strive for a mix of local and national guests. An episode on independent theaters, for instance, featured an interview with Jay Pregent, owner of the Madison Theater in Albany.
While it's hard to get an exact idea of how many people are actually listening, Burns and Ruzicka say the feedback has been positive. People from all over the country have e-mailed them about the show, and they say all their guests so far have said they'd come back. Still, that doesn't keep them from experiencing the occasional self-doubt and feeling of "Is anyone out there really listening?"
The duo says the producing, organizing and promoting the show has been challenge, but it's been really rewarding -- especially when they land an interesting guest. Says Burns: "A year ago I'd have never believed I'd be able to talk to these people."
The Everything Film Show airs each Thursday from 11 p.m. to midnight, give or take, and is also available as a dowloadable podcast.
Say Something!
We'd really like you to take part in the conversation here at All Over Albany. But we do have a few rules here. Don't worry, they're easy. The first: be kind. The second: treat everyone else with the same respect you'd like to see in return. Cool? Great, post away. Comments are moderated so it might take a little while for your comment to show up. Thanks for being patient.