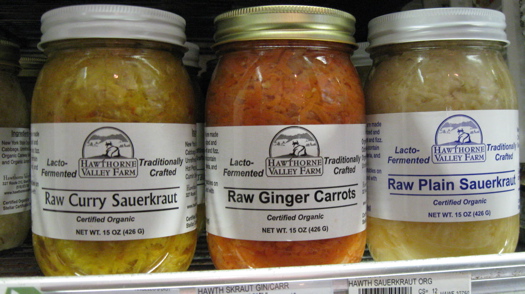 By Jessica Pasko
So about a year ago, some friends turned me on to Hawthorne Valley's lacto-fermented sauerkraut and now, no other kraut can compare.
It's crispy, it's tangy, it's almost, well, effervescent. It's eat-straight-from-the-jar-good. No sausage required. It will give your Oktoberfest that certain je ne sais quoi. ]
And it's the brain child of a guy called Sauerkraut Seth.
No, really. That's what they call him.
Martha Stewart claims to be a fan of "Sauerkraut" Seth Travins' kraut, and you can get the stuff at "Top Chef" judge Tom Colicchio's 'Wichcraft sandwich joints.
Travins, has been making his kraut at Hawthorne Valley Farm in Ghent for about a decade now. He first came there from Queens as part of a visiting students project.
As an apprentice on the farm in 1999, Travins attended a workshop where someone was serving their own homemade sauerkraut - which he says was like nothing he'd ever tasted. That taste, combined with that season's bumper crop of cabbage, caused him to have something of a "eureka!" moment. He started experimenting and pretty soon, he'd created his own kraut - and it was delicious.
So, what's so special about it? Well, for one thing he uses lacto-fermenation. It's an ancient process, but a very efficient one. See, most commercial sauerkraut is canned using heat, but Seth's is raw -- the plain variety contains just cabbage, sea salt and water. The sugars in the cabbage convert to lactic acid and cause the fermentation.
The sauerkraut, and the fact that there was already another Seth on the farm, earned him his nickname, "Sauerkraut Seth."
What started out as just a few barrels has now turned into a venture that can produce 20-30,000 pounds of the stuff a year. Travins says October is pretty much prime kraut-making season. Apparently after a couple of frosts, the cabbage has a higher sugar concentration, which makes for a better product. Once it's shredded and packed into 300-pound barrels, it can take up to two months to ferment into the perfect kraut. Getting a really good batch of cabbage, he says, feels like spinning straw into gold. He says, "You kind start to become part of the flow of the creation process."
Seth has branched out a bit from plain sauerkraut. These days he makes several varieties including caraway, jalapeno, curry and ruby red. He also makes a lacto-fermented kim chee, gingered carrots, pickles and a few other items.
Yes, they are a little pricier (a jar of the plain kind costs about $5-6) than the stuff you find in a can at the grocery store. But Hawthorne Valley is a teaching farm and school, so you can be sure your kraut isn't being made by poorly paid migrant workers. And it's made with organic, locally grown ingredients. And oh yeah, did I mention that it's really good?
Locally, you can get Seth's products at the Honest Weight Co-op, from the farm's store or online .
So what does sauerkraut go with? Seth says he eats the kraut (especially the curry kraut) with everything, including eggs -- and often just straight from the jar.
Say Something!
We'd really like you to take part in the conversation here at All Over Albany. But we do have a few rules here. Don't worry, they're easy. The first: be kind. The second: treat everyone else with the same respect you'd like to see in return. Cool? Great, post away. Comments are moderated so it might take a little while for your comment to show up. Thanks for being patient.