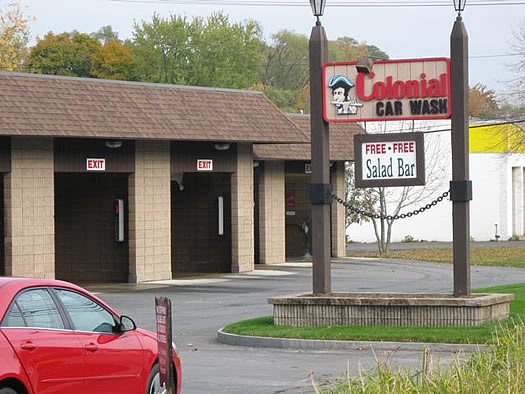 By Dawn Padfield
I don't know how many times I have driven by the Colonial Car Wash on Western Avenue, only to scratch my head in confusion. Under the Colonial sign, there is another sign advertising...wait for it... a free "Salad Bar."
A salad bar at a car wash? Kind of makes you go hmmm, right?
Yeah, me too. So last week, when I was craving some veggies and an express wash, I decided to check it out.
So lets get one thing straight from the beginning -- you can not get a salad at Colonial Car Wash. At least, not salad in the traditional sense of the word. Apparently 'salad bar' in car wash terms means condiments for your car -- stuff like shammy-cloths and multi-purpose cleaner.
I found this out the hard way. When I pulled in to wash my car and order my leafy greens, the attendant on duty kind of looked at me sideways. Really? I mean, the sign clearly says "Salad Bar." Surely I am not the first one to come knocking?
After the disappointment wore off (and yes, I was a little disappointed) I got to thinking about this area's love affair with the car wash.
Here are some things that have amazed me about Capital Region car washes:
The number of them
If there is one thing I have noticed since moving to this area it's that there are car washes EVERYWHERE. Probably, more per capita than in any place that I have ever been (that is my own statistic; please do not try to verify at home). Why so many? Is everyone entering their sedans in weekend monster truck rallies?
Fancy landscaping
The Colonial Car Wash has a pretty little wishing well in the middle of seasonal flowers. I've also seen places with pagodas, words spelled out in landscaping rocks, and fish ponds. Is this a car wash or the Royal Botanical Gardens?
Options
I remember the good ole days where a garden hose, sponge, and bucket would suffice, but not anymore. There are more packages at some of these car washes than you would find in a day spa.
Vending machines
I think this comes from my time in Japan where I would keep a running list of all the things I saw sold in vending machines (cigarettes, comic books, ties, ladies undergarments) but car washes seem to be one of the few places that utilize the myriad possibilities vending machines have to offer. There was a multi-flavored assortment of tree air fresheners, de-fogger, shammies, anti-bug shield, sponges, 'auto-fragrance', spot remover and yes, tire-shine gel.
Anyway, I digress.
The point here was to make sure you knew that you can not, in fact, get a salad at the Colonial Car Wash. But if, after a thorough car washing, you find yourself craving some limp iceberg lettuce and croutons, there is a Pizza Hut right next door.
Find It
Colonial Car Wash
1769 Western Avenue
Albany, NY 12203
Say Something!
We'd really like you to take part in the conversation here at All Over Albany. But we do have a few rules here. Don't worry, they're easy. The first: be kind. The second: treat everyone else with the same respect you'd like to see in return. Cool? Great, post away. Comments are moderated so it might take a little while for your comment to show up. Thanks for being patient.