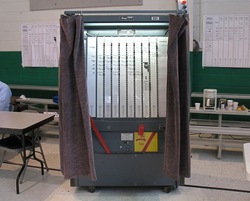 The boards of elections for Albany, Saratoga, Rensselaer and Schenectady counties all have results from yesterday's election posted online.
Here's a quick scan of some of the notable results.
All vote totals from county boards of election sites. For citywide races in Albany, results from 99% of machines were posted this morning.
Albany County
Mayor of Albany
Jerry Jennings (D)
63.2%
Corey Ellis (WF)
29.5%
Nathan LeBron (R)
7.3%
City of Albany Treasurer
Kathy Sheehan (D)
77.65%
Mary Ann McGinn (R)
12.8%
Betty Barnette
9.55%
Leif Engstrom (D) didn't have an opponent for the City of Albany auditor job -- so he got 100% of the vote.
City of Albany Common Council President
Carolyn McLaughlin (D)
81.79%
Lenny Ricchiuti (CON)
18.21%
City of Albany Common Council Ward 11
Anton Konev (D)
52.46%
Luke Gucker (WF,GR)
33.83%
Kenneth Barnes (CON)
13.71%
Also: Leah Golby -- who writes the blog Qualities of Life in Albany -- was elected in Ward 10 (she didn't have an opponent in the general election).
Town of Colonie Supervisor
Paula Mahan (D)
53.20%
Michael Hoblock (R)
46.80%
Town of Bethlehem Supervisor
Sam Messina (R, CON)
50.60%
John Cunningham (DEM,I,WF)
49.40%
There were more than 400 absentee ballots sent out for this race, so it's not over yet. [TU]
Town of Guilderland Supervisor
Ken Runion (D)
56.15%
Peter Golden (R)
43.85%
Saratoga County
Saratoga Springs Mayor
Scott Johnson (R)
4,165
Ron Kim (D)
2,837
Saratoga Springs Commissioner of Public Safety
Richard Wirth (R)
3,405
Kevin Connolly (D)
2,978
Saratoga Springs Commissioner of Public Works
Skip Scirocco (R)
4,153
Ed Miller (IND)
1,376
Saratoga Springs Commissioner of Finance
Ken Ivins (R)
3,473
Peter Martin (D)
3,084
Saratoga Springs Commissioner of Account John Franck (D) was unopposed
Clifton Park Supervisor
Phil Barrett
5,220
Bill Casey
2,584
Malta Town Supervisor
Paul Sausville
1,742
Richard Morse
620
Sue Nolan
143
Waterford Town Supervisor
John Lawler
1,208
Craig Burridge
617
Ballston Town Supervisor
Patti Southworth
1,413
Peter Connors
1,254
Milton Town Supervisor
Frank Thompson
1,832
Meg Stevens
1,237
Rensselaer County
Rennselaer County Legislature District 1 (6)
Lou Rosamilia (D)
3743
Peter Ryan, Sr (D)
3573
Mark Fleming (D)
3522
Edward Manny (D)
3415
Peter Grimm (D)
3528
Kathleen Ryan Cassidy (D)
3407
Neil J. Kelleher (R)
3296
John Mainello (R)
2973
Michael Picarillo (R)
2964
James Brearton (R)
2784
Bob Mirch (R)
2672
Catherine Vandenburgh (R)
2544
and six others with no more than a few hundred votes
That means Bob Mirch -- the Republican majority leader in the county legislature -- is out.
Troy Council at Large (3)
Clement W. Campana (D)
3837
John F. Brown (D)
3654
Michael LoPorto (D)
3526
Henry R. Bauer (R)
3086
Stephen F. Miner (R)
2663
Keith J. Rogers (R)
2777
City of Rensselaer Mayor
Daniel Dwyer (D)
1269
Edward Kosinski (R)
885
North Greenbush Supervisor
Josephine Ashworth (D)
1248
Mark Evers, Sr (R)
1,221
Michael Miner (CON)
1,000
Schodack Supervisor
Dennis Dowds
2044
Kristin Shaw
1204
Beth Secor
827
Secor is the incumbent
Schenectady County
Schenectady County Sheriff
Dominic A Dagostino
15,629
Joe Lazzari
14,107
Niskayuna Town Supervisor
Joe Landry
3,177
Donald R Cromer
2,490
Rotterdam Town Supervisor
Francis Del Gallo
3,460
Steven Tommasone
3,255
Brian P McGarry
1,451
Glenville Supervisor
Chris Koetzle
4,595
Frank X Quinn
2,827
Say Something!
We'd really like you to take part in the conversation here at All Over Albany. But we do have a few rules here. Don't worry, they're easy. The first: be kind. The second: treat everyone else with the same respect you'd like to see in return. Cool? Great, post away. Comments are moderated so it might take a little while for your comment to show up. Thanks for being patient.