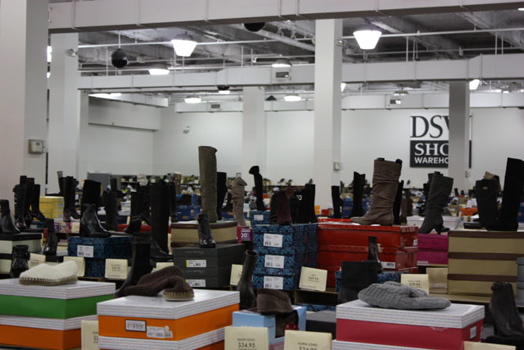 By Kaitlin Resler
Not to be a downer, but snow is coming.
Piles and piles of snow.
We're all thinking it -- tugging our winter coats out of closets and waiting for the gloves and scarves to go on sale. Then, there is the trickiest part of the winter ensemble: the winter boot.
Winter boots are heinous. Most of them are hideous, plastic looking things. So how on earth is one to survive winter with their sense of fashion in tact? There is no shortage of really adorable leather boots, with all manner of buckles or sueded details, but these aren't practical. Besides the fact that suede screams in agony every time it even thinks about salt on the ground, most of these boots have slick soles and hard heels which are really perfect for falling down.
My mission this week is to find a pair of winter boots that will service me when digging my car out of the street, parking lot (mall or campus), or driveway as well as trudging through the infernal mountains and tunnels of snow that once resembled a sidewalk. I require that they look decent with both dresses and pants, while keeping my feet dry and reasonably warm.
One of my first stops was DSW. I'm not an enormous fan of the store--I get overwhelmed easily--and I find that even though they have tons and tons and tons of shoes, I usually have a hard time finding what I want. After wandering around for a while, I grabbed a pair of boots from Totes. They vaguely resembled a riding boot, although the material was some weird version of vinyl, and the inside was lined with faux fur.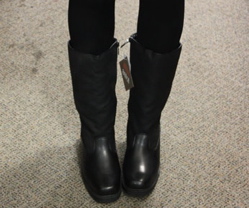 The black helps--they kind of blend in, albeit a bit chunkily. They're a bit hard to walk in, stiff, but the 39.99$ price tag makes them more attractive (especially if you've got one of those 10$ off coupons that I hear are floating around).
A trip to Burlington Coat Factory proved to be a bust -- not much selection and what was there --umm--no. Next I made an unusual stop for me -- Journey's in Crossgates. There is a boot on sale for 39.99$ that resembles the L.L. Bean Duck boot. They also have them upstairs at Shi (the same company).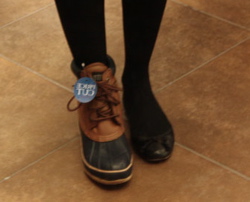 But wait-- weren't looks on my list of requirements? Yeah, but I'm kind of banking on the "so ugly they're pretty" thing. Duck boots are functional, and kind of classic in a weird sort of way (like hunter wellies--hideous and unflattering, but cool because they're iconic and they function well). I feel like I can make this work with a dress, or with some kind of pant carelessly tucked while I pretend to be rugged.
The Bean Boot is something I have a tenuous relationship with. They're kind of classic, but also really ugly: there is no way to deny this. Still it kind of works. Plus, it's a boot that can be worn by both men and women.
They're a bit easier for guys to get away with -- tossing them on with work clothes or under jeans is pretty faultless. If the price tag gets you (depending on the style, they run between 84$ and 134$), I've heard that you can bring in damaged boots ages later (seriously--years and years later) and L.L. Bean will replace them for you.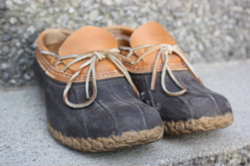 Macy's is a regular shoe haunt for me. On this trip I found these Timberland boots. Okay, so they have heels. But I swear, I think these might work in snow anyway. At the very least, I think I'd be okay in slush. Again, I think ugly-pretty works here. They have a kind of edge, with all the laces and such, that I think is a nice contrast to a girly dress. On the downside, they're currently priced at 140$.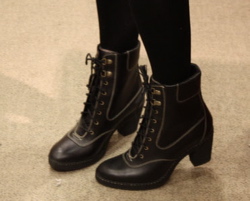 So what did I pick? I'm still thinking about it-- but it's time to put the suede boots on the shelf--so I'm thinking the "so ugly they're cute" duck boot is the way to go. The real challenge now is finding a way to make them work.

Say Something!
We'd really like you to take part in the conversation here at All Over Albany. But we do have a few rules here. Don't worry, they're easy. The first: be kind. The second: treat everyone else with the same respect you'd like to see in return. Cool? Great, post away. Comments are moderated so it might take a little while for your comment to show up. Thanks for being patient.