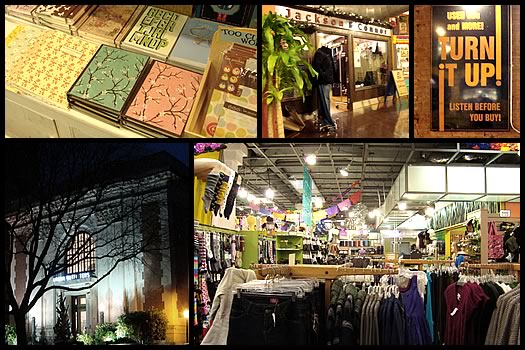 By Kaitlin Resler
It's no secret that the Albany area is located in a pretty awesome spot for day-trips. Heading out an hour or so in pretty much any direction will land you somewhere interesting. One of my favorite spots to visit is Northampton, MA. It's only an hour and a half away and is worth every second of the drive.
Especially if you like to shop.
So if you need a quirky gift, the nearest Urban Outifitters, an old-school photobooth, or just an alternative to Black Friday at the mall -- this is your destination.
Here's the inside on what not to miss:

The drive itself is quite enjoyable and scenic -- and you can always break it up with a quick stop at the Lee Outlets.
Northampton is a really cute little town and there's no shortage of things to do. I find myself dying to take pictures of just about everything. There are lovely little local shops are everywhere. I'm a regular visitor and I have yet to see it all, but on the main drag, everything is within a 5 minute walk of everything else.
Urban Outfitters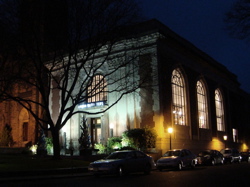 (yep, that's the Urban Outfitters building!)
No, it's not a little indie shop, but I can't lie-- this is one of the big draws for me. Hipster-heaven it may be, but Urban Outfitters runs good sales and often have clever home goods, a good selections of men's graphic tees, and ridiculous clearance sales on hair accessories. It's he nearest Urban Outfitters to Albany if you're not heading downstate towards NYC.
The UO building itself is quite cool--as are most of the store fronts and building-insides in Northampton. It's in a renovated building that used to be the old Northamton Institute for Savings. It's got high molded ceiling and the outside looks like no storefront I've ever seen.

Faces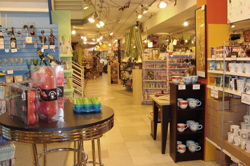 If you like Urban Outfitters, but feel the need for something slightly more original and cool, only a block or so down the street is Faces. It does carry some of the same items as UO (ten-dollar canvas sneakers for instance), but also carries local brands, American Apparel, and more clever knick-knacks than anyone could resist.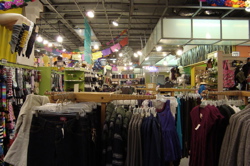 If you need a two-foot faux handlebar moustache, new sunglasses, or a clever kitchen item for someone tough to buy for (or, you know... yourself), Faces is an excellent stop. I was particularly fond of the fish Christmas ornaments for 7.95, but they've packed this store with just about everything. As an added bonus they're open till 10pm!

Also, Faces is home to one of my favorite things ever -- an honest-to-goodness, black-and-white photo booth. According to photobooth.net Northampton has closest of these old photobooths to Albany. I'm not sure if it's accurate, but it's the closest I've ever seen. You'll find it in the back of the store near the stationary and greeting cards. For 4$ you can get a lovely four-picture strip of portraits!
Thorne's
If the photo booth at Faces has a line, you'll find another of these fun little contraptions across the street in Thorne's (it's on the second floor). This one is also 1$ cheaper.
Thorne's itself is worth some exploration -- it's a collection of gift shops, book shops, local jewelry designers and a weird sort-of dollar store.

Guys will want to check out Jackson & Connor. It does tend to be a little bit pricey--but it's one of the few shops that does for guys what so many small clothing boutiques do for women's fashions. Plus, the décor is awesome and they have great hats, socks, and subtly patterned shirts.
Herrel's Ice Cream
This is a required stop for me on every trip. The chocolate sprinkles are the finest, thinnest ever, and they have a specialty flavored hot fudge every day!
Essentials
Essentials also has a location in Amherst. This is my favorite stop for everything twee and stationary. I can hardly contain myself from buying every little piece of paper or sweet notebook. They also carry delicate tote-bags, lots and lots of baby accessories, weird little perfumes and pens, magnetic animals, and jewelry.
Turn it Up!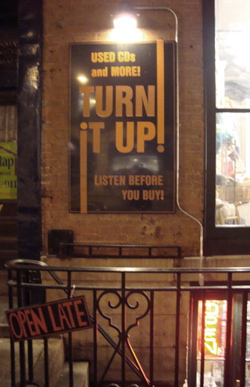 The local used music store located in a basement and down some very steep stairs. Turn it Up is a really tiny place but they have a nice selection and funny tags for the music sections. Worth a check out if you're a Last Vestige fan or like cool signs.
So after all of this, one needs to eat. There is no shortage of excellent restaurants in NoHo. The pizza at Paradiso might not be AOA tournament worthy, but we're totally in love with the hot buffalo wings. They're not just hot--they have an excellent and addictive flavor. Bonus: we spied them slipping a handful of pizza dough to a child to play with. He seemed very pleased with how squishy it was.
If you're not feeling pizza and wings you're not at a loss. For Japanese, Osaka (extra bonus because it's right near the ice-cream place), or Local Burger & Fries for -- you know---burgers and fries ( and definitely don't skip the fries). You'll also find a whole bunch of local Mexican and burrito places on the main stretch. A quick stroll and you'll find much, much more.
If you're not too beat, stick around for some music. Northampton tends to get some pretty decent shows. The Pearl Street Nightclub gets a lot of the good acts and has a great upstairs space (the downstairs is not quite so nice, but it works). If you're lucky a favorite band will show up at the Academy of Music (also right on the main street) which is an old theater that has balcony seating and fun red chairs.
Sure, the drive home is 90 minutes, but you'll have a great time.
Say Something!
We'd really like you to take part in the conversation here at All Over Albany. But we do have a few rules here. Don't worry, they're easy. The first: be kind. The second: treat everyone else with the same respect you'd like to see in return. Cool? Great, post away. Comments are moderated so it might take a little while for your comment to show up. Thanks for being patient.