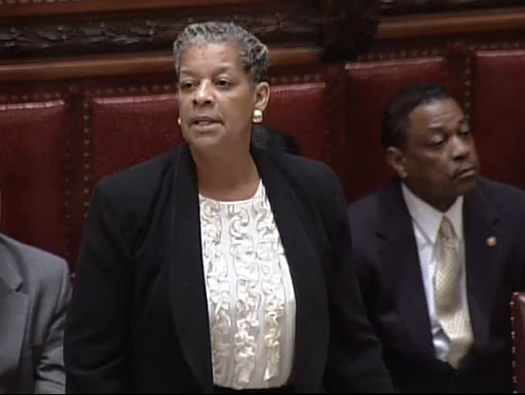 Updated Thursday at 5:30 pm
We've sifted through the coverage of yesterday state Senate vote on the same-sex marriage bill. Here are a bunch of the quick-scan highlights, including details of a protest planned for tonight...

+ The vote was 38-24 against. Every Republican voted against bill, as did eight Democrats (four of them from Queens). [NYO]
+ Neil Breslin voted "yes." Roy McDonald voted "no."
+ Here's the rundown of how each senator voted (and a spreadsheet). [CapCon]
+ Supporters of the bill had expected the vote to be a lot closer. But no one seemed to know how the vote was going to be split, which is unusual for the New York legislature.[NYT]
+ David Paterson says he thinks the vote would have been closer if it had been secret ballot. [Daily Politics]
+ The floor debate before the vote featured some very personal speeches by senators. [NYT]
+ Ruth Hassell-Thompson, a Democrat from Westchester who had not publicly stated how she would vote, spoke movingly of her gay brother:
She voted "yes."
+ Diane Savino, a Democrat from Staten Island, questioned what heterosexual people had done to the sanctity of marriage:
She voted "yes."

+ Ruben Diaz Sr, a Democrat from the Bronx and maybe the most outspoken opponent of the bill:
"I implore you, ladies and gentlemen, members of this body. Members of the Republican Party: Remember your roots. Remember your values--remember you stand for traditional values, family values, moral values ... "Join me, a Democrat, join me, a Hispanic, join me a Puerto Rican, join me, a black, join me, a resident of the city of New York in saying no."
He voted "no." [NYO]

+ James Alesi, a Republican from Rochester, appeared to agonize over his vote. He voted "no." He blamed the political climate created by the economy. [New York Now] [NYDN]
+ Tom Duane, a Democrat from Manhattan and the sponsor of the bill (he's also gay), after the vote: "I'm angry. I'm disappointed. I am let down. I'm betrayed. But I am not going away." [Daily Politics]
+ The president of the New York Bar Association, in a released statement:
"Today's defeat of the same sex marriage bill in the New York State Senate is deeply disappointing. We have lost an important opportunity to finally bring true equality under the law to all New Yorkers."
+ The executive director of the New York Civil Liberties Union, in a statement:
"Today's Senate vote is painfully disappointing given our state's proud history of promoting fairness and justice for gay and lesbian people and other minority groups. But this is only a temporary setback in our campaign to protect all New York families. The majority of New Yorkers support fair marriage laws that protect lesbian and gay families, and the day will come when we achieve that goal."
+ The exec director of the New York State Catholic Conference, in a statement:
"On behalf of the Bishops of New York State, we are extremely pleased and grateful that the New York State Senate in a bipartisan vote rejected the concept that marriage can be anything other than the union of one man and one woman."
"While the Catholic Church rejects unjust discrimination against homosexual men and women, there is no question that marriage by its nature is the union of one man and one woman."
+ The president of the Catholic League, in statement:
Kudos to New York State Senator Reuben Diaz and all the other good men and women who resisted this illegitimate push to treat marriage and the family as if they were merely items on a moral smorgasbord of lifestyle choices.
+ The exec director of the Empire State Pride Agenda: "We certainly know who are friends. We certainly go to bed tonight knowing more about where our support is, and that's a victory." [AP]
+ Matt Baumgartner, who was at the capitol yesterday:
Frankly, I don't even know what else to do anymore. I'm certainly not alone, but I give money, I march in the marches, I try to be a good leader in the community. I donate. I listen. I encourage. I employ. I pay taxes. And yes, I admit, I violate the speed limit on a regular basis. We all can't be perfect.
But I have always been proud to be a New Yorker. To have been raised here, and to continue to live here, and to work here. I just feel like New York is better than this. I mean, c'mon, we're f******* NEW YORK!
+ David Paterson says he does not plan to push same-sex marriage legislation next year, unless it's guaranteed to pass. [NYDN]
+ A Marist poll released yesterday reported that New Yorkers support same-sex marriage 51-42. [Marist]
+ There's a protest planned for outside the capitol this evening at 5 pm at the intersection of Washington, State and Eagle.

screen grab: NYSenate.gov YouTube
Say Something!
We'd really like you to take part in the conversation here at All Over Albany. But we do have a few rules here. Don't worry, they're easy. The first: be kind. The second: treat everyone else with the same respect you'd like to see in return. Cool? Great, post away. Comments are moderated so it might take a little while for your comment to show up. Thanks for being patient.