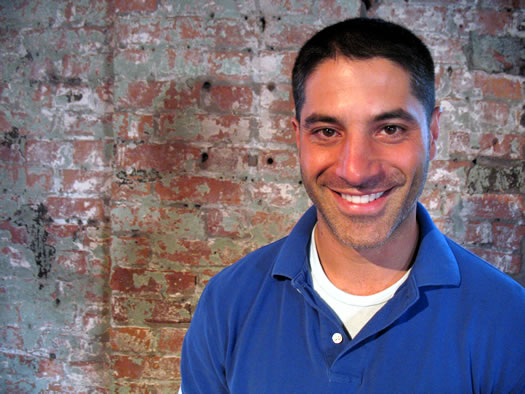 One of the best things about working on AOA is that we've get the chance to meet a lot of interesting people. We'll be highlighting a handful of them between now and the start of 2010.
If he wasn't already, Matt Baumgartner became a Capital Region celebrity in 2009.
He may need some convincing about that, though.
Matt -- the owner of Bombers Burrito Bar on Lark -- launched not one, but two successful new bars this year: a second Bombers location in Schenectady and the new Wolff's Biergarten on Broadway in Albany.
He also managed somehow to find the time to start a popular new blog, first on the TU's site and then on a site of his own. The blog seemed to be a perfect format for Matt's unfiltered voice. He wrote with openness on topics as varied as the start of the Schenectady Bombers ("pretty much a disaster"), food allergies ("your allergies really aren't my problem") and the same-sex marriage vote ("I just feel like New York is better than this.")
Matt was nice enough to have us over to his north Albany loft recently for a conversation about the past year:
Did you plan for this year to come together this way?
It was a busy year. The only thing that was set in stone for this year was the Schenectady Bombers.
Wolff's fell into our lap because the space became available when the guy who had Noche closed down. So we kind of reluctantly, because we owed money to banks and whatever, moved into the space. And the blog was sort of intended to be just a little project that I was going to write like once a week and then it took on a life of its own and obviously I moved it onto my own site.
So everything wasn't really planned for this year but it's been a really great year. It's been a little stressful. I'm definitely a little more anxious this year than I have in the past, but fortunately everything is doing well. If it wasn't I'd be a complete mess, but the restaurants have been busy and the blog has been busy.
The people who run the restaurants are doing a fantastic job. If I were physically having to go into the places and manage I'd be losing my mind.
Opening the new Bombers and Wolff's seems like an act of optimism in a terrible recession.
When we were planning on opening the Schenectady Bombers there wasn't a recession so that was sort of beyond our control. But Wolff's and Bombers are sort of at a price point where it's cheap food and it's casual and I think that's more appealing in a recession.
But I don't know... they just seemed like good ideas to me. And I feel like I have pretty common taste and if something I think is a good thing, I think a lot of other people will agree.
People are always up for a good time...
Yeah, and I feel like I could open a restaurant blindfolded right now. I feel like it's almost easy because it's just kind of step a, b, c, d, e and you just sort of implement them and then they open and actually the set up of a restaurant is my favorite part... the running it is not my favorite
My sort of dream scenario is to franchise out Bombers and help with the set up of the franchises, but I probably won't myself open up another restaurant.
Wolff's is a different because it's a little bit simpler, so it's not as big of a process to open up another Wolff's. So I'd probably consider opening another Wolff's, maybe have two and two -- but I try not to think that far ahead because when I do I'm always wrong.
What do you think your brand says to people?
I think the brands I have in Albany are really cool . I think they have sort of a New York city vibe to them. I think they're unique . They're definitely ... they're just fun and I don't think people put enough emphasis on the design of things. You know, I'll spend a week choosing a font for a menu.
I feel like when people come to visit Albany, Bombers and Wolff's are places people take them and I think that's a really good compliment. And people who visit me I take them there and they really like it and I totally trust their opinion because they're designers from the city. I like the fact that they're all individually owned and operated locally.
I don't really worry about things not working out because I trust my ideas. I think you just have to trust -- I think I'm a pretty trusting person because if I wasn't I'd be in the restaurants all day long and I'd probably see some things I didn't like and that would stress me out and it'd start getting all worried and it would snowball from there -- but I kind of just trust that things are going to go well, look at the numbers, keep a positive attitude and trust that things are going to go well.
I worry that I'm going to be like a 90 year old man and look back and regret things. I'm really obsessive that way. I don't want to regret things.
Are you surprised that you've gone this route and become a restaurateur?
Yeah I guess it's surprising because I don't know how to cook. I never cook. I've probably cooked a meal in this kitchen maybe three or four times. I've lived here for four years. Friends have come and cooked. I'll make sandwiches and, you know, boil things. But I won't go out and buy meat and bread.

What was your plan for the blog in the beginning?
Mike Huber [from the TU] had asked me to write a business blog. He knew I was opening a new restaurant and he thought it would be interesting to get a business owner's perspective about what that's like.
But I feel like I've always been bad at editing myself -- whether it be in text messages or even in conversation. And when I started that blog I sort of spilled my heart out into it and exactly what I was feeling about what it's like and I think that people just responded well to the honesty of it. And that I was not just saying everything's perfect, it's great, you'll love it, come in. I think people appreciate the honesty of it.
Have you always not had a filter?
I've definitely always not had a huge filter and if I drink, there is no filter... so being in the bar business that's probably not the smartest mix.
So why did you move the blog from the TU site?
I moved it over because I feel like being under the Times Union umbrella... I feel like people take an ownership of the Times Union and they feel like it's their paper and I feel like I should be behaving myself. And if I'm not then they get pissed off and as the blog grew I got really more and more negative comments towards me personally and some of the things i was talking about... like "stick to talking about burritos, I don't wanna hear about your gay marriage bullsh*t."
I just felt safer and more at liberty to be myself on my own blog. I feel less stressed. I feel more proud of it. I think of it almost like a business and it's been fun to bring in friends that are contributing to it. You know I was able to sort of design it and I kind of like the design ... and being able to swear and write about the things I want to write about is very refreshing.
You've been very open about your thoughts on gay marriage. A lot of business owners might shy away from speaking out publicly on such a charged topic.
I don't think being gay is a negative. I think some people are sort of nervous about being gay or think it's going to be perceived in a negative way. I don't think that way at all. I think it's one of the better parts about me. I think it makes me more unique and I think it makes me a better person. I 'm proud of it. I mean, it's not the number one thing I tell people about myself, but it's not something I shy away from.
But in the past there hasn't been such a gay marriage issue. It seems that recently it's been such a hot topic that I hadn't really felt the need to be so vocal about it, but the timing of writing a blog and the gay marriage thing... I mean, I feel it's all just sort of surfaced because it's such a big issue. It's not like I feel obligated to write about it. But it's just not being able to filter myself on such a big issue to me that I feel like if I wasn't writing about it I would have been talking about it to everybody or posting things of Facebook .
Are you OK being a celebrity?
I'm not a celebrity.
Oh, you totally are! In Albany you totally are.
I truly disagree. When I think of celebrities I think of the mayor and newscasters and like... Angelo Mazzone... he's like my idol.
I think having the bars, which are sort of popular, and being the owner of those bars, that makes me a public figure. But I feel like celebrities are recognizable and I feel like I could go anywhere and nobody knows who I am.
So what's next?
I really don't have too much going on right now. I'm just enjoying everything running smoothly.
The blog is such a constant that I really feel like that is such a huge part of my life right now.
I haven't even mentioned this on Friday Puppy yet, but we're shutting down Bombers in Albany for a month in January to gut it and renovate it and get it up to par with the Schenectady location.
This interview has been edited and condensed.
Say Something!
We'd really like you to take part in the conversation here at All Over Albany. But we do have a few rules here. Don't worry, they're easy. The first: be kind. The second: treat everyone else with the same respect you'd like to see in return. Cool? Great, post away. Comments are moderated so it might take a little while for your comment to show up. Thanks for being patient.