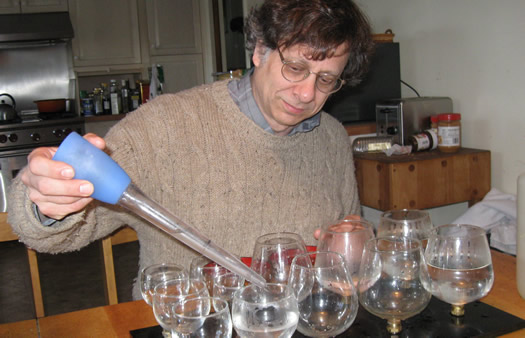 By Jessica Pasko
Ed Stander plays the glasses. That is, he plays wine glasses and brandy snifters as a musical instrument. Really.
The Delmar resident internationally renowned for it -- he's played the glasses all over the world (including the Great Wall of China). You might have also seen him performing at this year's First Night celebration in Saratoga.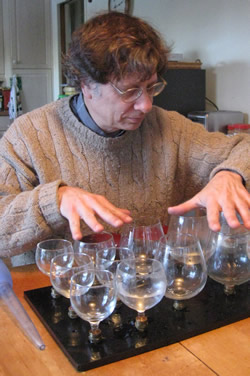 Stander performs as part of duo called Noisy Science along with juggler/musician Karl Saliter. He also performs on his own throughout the country and at musical festivals around the world. And when he's not doing that, he's a professor of astronomy, geology, and environmental science at SUNY Cobleskill.
So how does one play a set of glasses? Well, have you ever wet your finger and rubbed the rim of a wine glass to produce that high-pitched sound? Playing the glasses is basically like that -- except Ed's able to play entire songs using a set of 12 glasses (6 wine glasses and 6 brandy snifters) attached to plastic boards. (He also has a set of 64 he plays, too.) Changing the level of water in each glass produces a different pitch. He uses a turkey baster to fill the glasses to their proper level and "tune" the instrument. His repertoire typically includes 30-40 songs but he also take requests.
The concept was more or less "invented" in the 1720s (Benjamin Franklin played a a similar instrument), but disappeared by the 1830s because of fears that the sound caused brain damage, according to Ed. (Seriously. I'm not making this up.)
Ed says the sound is sort of halfway between that of a violin and nails scratching on a blackboard. Apparently the sound is rather polarizing -- while some people love it, he says others cringe.
So how'd he get started playing glassware? Flash back to 1984. Ed had been making his own instruments when a recording from the 1930s of a person playing the glasses inspired him to make his own set. He was living in Newfoundland at the time and had been out of work for a year-and-a-half due to a broken leg. He was looking for something new to do. Playing the glasses seemed like a good new challenge to pursue. (He plays 12 different instruments.)
Ed says he's now one of about a dozen people in the world who actively play the glasses, and he travels all around the world for it. In fact, not only has he played on the Great Wall of China, he was also nearly arrested for doing so. He's also played on various cable channels and at music festivals around the world. Apparently there's even a documentary about him by Thai filmmakers called "The Man Who Dances the Glasses," but he has yet to see it.
Just for fun, Ed's tried using beer in the glasses instead of water but he says it only worked for about 30 minutes before the beer goes flat. "I sometimes use wine for weddings," he jokes. Strangely, some types of water are actually too full of minerals to produce the proper sound and he has to used bottled water. The glasses themselves must also be the right thickness -- Ed prefers hand blown glasses from Mexico that he buys on the cheap at places like Pier 1.
Ed doesn't play locally very much, but he's been doing a lot more domestic touring through Noisy Science, which performs a lot of children's shows throughout the Northeast. If you're interested in finding out more, you can contact him through the Noisy Science web site.
Here are few clips of Ed playing:
Say Something!
We'd really like you to take part in the conversation here at All Over Albany. But we do have a few rules here. Don't worry, they're easy. The first: be kind. The second: treat everyone else with the same respect you'd like to see in return. Cool? Great, post away. Comments are moderated so it might take a little while for your comment to show up. Thanks for being patient.