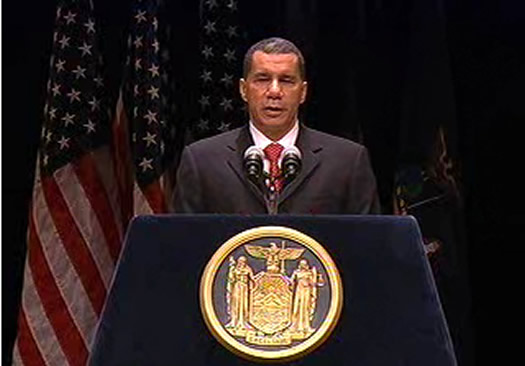 Updated at 1:44 pm
The Paterson administration officially released its proposed 2010-2011 state budget today. David Paterson called the state's financial picture "lugubrious" and said his proposal was "a budget of necessity." He also criticized past budgets: "We can no longer afford this spending addiction."
A (relatively) quick scan of the proposed budget is after the jump. It includes items about a soda tax, wine in supermarkets, speed cameras, The Egg and ultimate fighting.
This is just a skim of the budget. It omits many details. See the state Division of Budget documents for more details.
Also: the legislature still has to pass the budget, so it will almost certainly go through extensive changes. Think of this as David Paterson's opening offer.
The total
+ The Paterson administration's proposed budget totals almost $134 billion. That's an increase of .5 percent from the previous year.
+ Last year's budget represented a 9.5 percent increase (an earlier AOA chart about the growth of the state budget vs. inflation).
The gap
+ The budget office projects that the state is facing a $7.4 billion budget gap next year.
+ Among the ways he budget aims to close the gap: cuts to state agencies ($1 billion), school aid ($1.1 billion), health care savings and fees ($1.9 billion).
Spending cap
+ David Paterson says he'll push to cap increases in the state operating funds budget to at average rate of inflation from the three prior calendar years. For this year, that would be 2 percent. The 2010-2011 Paterson budget for this type of spending includes an increase of .9 percent.
+ The Paterson administration figures that cuts required by this proposed cap would lead to a $1 billion surplus in 2011-2012.
+ The cap would also include a "circuit breaker" that could lead to tax credits for some people.
Higher ed
The budget includes a provision that would allow individual the SUNY and CUNY boards to set their own tuition rates (increases would be limited by an inflate formula). The two systems would also be allowed to set different rates for different campuses.
The administration says these changes will lead to smoother and more predictable increases in tuition at the state's colleges and universities.
School aid
The budget includes a cut in local aid of five percent -- that's $1.1 billion. The administration points out that the cut represents two percent of overall district spending in the state -- and even with the cut, the funding level will still have increased faster than inflation since 2003.
Health care
+ The administration is hoping for savings in reduced health care costs ($1 billion) and increased savings from better Medicaid fraud detection ($300 million).
+ The budget also includes $240 million in increased assessments and surcharges on health care providers.
Unfunded mandates
The budget package includes a proposal that would place "a four-year moratorium on all significant unfunded statutory mandates affecting local governments." In other words, it would prohibit the state legislature from passing a law that requires local governments to do something -- but doesn't provide the money to cover the costs.
Agency cuts
+ The budget includes a proposal for a $500 million across-the-board cut at state agencies.
+ The budget also includes another year of no pay raises for non-union management/confidential state workers.
Taxes on cigarettes and soda
+ The budget increases state taxes on a pack of cigarettes by $1, to $3.75. The administration is estimating this increase will decrease smoking by 14 percent in the state. The budget expects to generate $200 million from this tax increase in 2010-2011 (or $218 million as it says on pdf page 103).
+ The budget would institute a tax on sugared soda equal to $1.28/gallon of bottle soft drink. That's 12 cents on a can of soda and about 34 68 cents on a two-liter. The tax would apply to sugar-sweetened beverages that have more than ten calories per eight ounces, so that would include sports drinks and bottled coffee drinks (No tax on Starbucks?). The budget expects to generate $450 million from this tax in 2010-2011 (or $465 million, as it says on pdf page page 103).
(From briefing book pdf page 24)
+ David Paterson says the revenue from these taxes will be used to offset other health care cuts.
Wine in supermarkets
The budget includes a provision that would open the way for supermarkets to sell wine. The budget expects to generate $92 million from the fees associated with license for these sales.
Photo radar for speeding
The budget includes a provision that would deploy "automated cameras to identify vehicles speeding in designated highway work zones and dangerous stretches of highway." Fines would be $50 for highway speeding and $100 for workzone speeding. The budget projects $25 million in net revenue from these tickets.
Legalize MMA
There's a provision that would lift the state ban on ultimate fighting. The budget projects $2.1 million in revenue from lifting the ban.
The Egg and NYSTI
+ The budget cuts the state's subsidy to The Egg, which makes up about 15 percent of its budget.
+ The budget also eliminates the state's subsidy to the New York State Theater Institute in Troy. That subsidy is about 85 percent of its budget.
(From the "agency presentations" document -- page 10)
screen grab: ny.gov
Say Something!
We'd really like you to take part in the conversation here at All Over Albany. But we do have a few rules here. Don't worry, they're easy. The first: be kind. The second: treat everyone else with the same respect you'd like to see in return. Cool? Great, post away. Comments are moderated so it might take a little while for your comment to show up. Thanks for being patient.