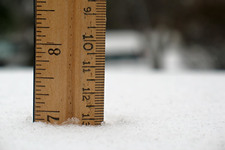 Dartmouth economists (and skiers) Jonathan Zinman and Eric Zitzewitz decided to look into whether ski snow reports were accurate. From their preliminary paper:
Ski resorts self-report 23 percent more snowfall on weekends; there is no such weekend effect in government precipitation data. Resorts that reap greater benefits from exaggerating do it more. We find little evidence that competition restrains or encourages exaggeration. Near the end of our sample period, we observe a shock to the information environment: a new iPhone application feature makes it easier for skiers to comment on resort ski conditions in real time. Exaggeration falls sharply, and much more at resorts with better iPhone reception. In all, the results suggest that deceptive advertising varies sharply with incentives, both within resorts (over time, at high-frequencies), and across resorts.
[Via Marginal Revolution.]
By the way: As the TU pointed out today, this winter's snowfall totals are about a foot lower so far than average.
The National Weather Service has posted seasonal snowfall data dating back to 1884-85. The least-snowy season on record 1912-1913, which just 13.8 inches. The most? 1970-1971 with 112.5.
Even if this winter hasn't been great for skiing, it's been good for skating.
Hi there. Comments have been closed for this item. Still have something to say? Contact us.