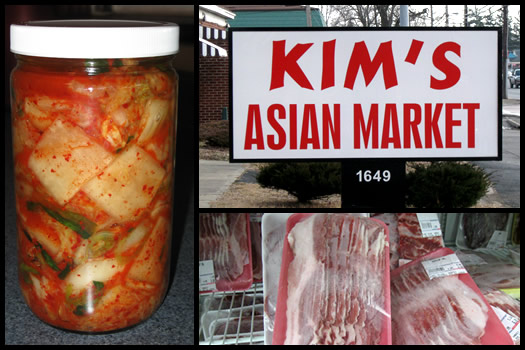 By Jessica Pasko
I love almost anything that's pickled or fermented, and I especially love spicy food. So I was pretty psyched to discover the store-made kim chi at Kim's Asian Market.
If you've never had it, Kim chi is basically a mix of pickled, fermented vegetables that's pretty commonplace in Korean cuisine. It's got a funky, slight pungent taste to it with a varying level of heat.
So how was it?

My first serving was just straight up, unadulterated. I was sort of hoping it'd be a little bit spicier (we go through a lot of hot sauce in my household), but it's nice and tangy.
Kimchi also bubbles when you open the jar, which, depending on how you look at it, is either cool or creepy. I kind of like the effervescence.
Anyway, I'll definitely be eating this kimchi with eggs and rice soon. A large jar of kimchi is $5.99 at Kim's, which I thought was pretty reasonable. You can also get it in small buckets and gallon-sized jars.
Admittedly Korean cooking isn't my specialty, but for those well-versed in the cuisine, Kim's is apparently tops in the area, so while you're there, look around. Celina is a major fan of Kim's, especially for their shiso leaves and their melons.
Kim's also stocks a small selection of cookware, including pressure cookers and dishes. The produce section is small but varied, and when I was in last week, the Korean pears in particular looked beautiful.
And of course, they've stocked all the staples a self-respecting Asian market should have, including giant bags of rice, spices, sauces galore and plenty of cool-looking little snack foods (and several varieties of potato chips, oddly). Oh, and there's a case of pre-made foods to go as well.
You'll also find Korean movies, Filipino ingredients and a small array of funny little tchotchkes. I even spotted what appears to be Korean bacon.
And if you're not up to cooking your own Korean food, the Kim family also runs Arirang, the Korean restaurant on upper Central.
Earlier on AOA: The ethnic market map

Find It
Kim's Asian Market
1649 Central Ave
Albany, NY 12205
518-869-9981
Hi there. Comments have been closed for this item. Still have something to say? Contact us.