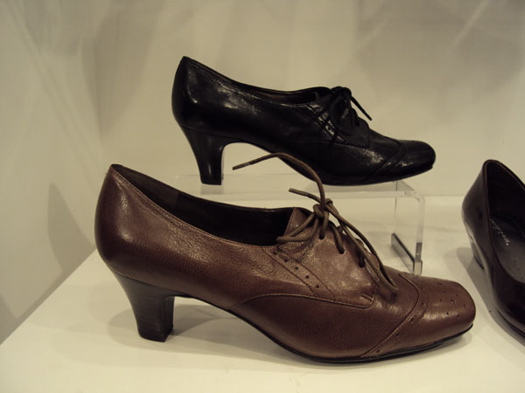 By Kaitlin Resler
For the past couple of seasons, oxfords in various incarnations have been popping up on fashion blogs, on runways and going for extraordinarily high bids on ebay. Thankfully, it seems that local shoe retailers are finally offering these funny little sartorial legends.
I've been hankering after a pair for a while (shopping vintage doesn't seem to be helping me in this case) and since I have problems finding shoes that work for my poor feet, I've gone back to wandering the mall stores in hopes of finding some. I'd prefer a flat pair. The ones with heels are kind of cute too, but I've found lace-up heels to be pretty uncomfortable.
Oh, and today's budget is 100$--preferably less.
So here's what I found:
Baker's
Crossgates Mall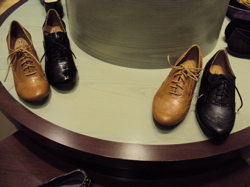 Usually this store scares me. The shoes are normally very architectural, very high, and intimidating. This time I waltzed in and discovered two exactly-what-I-wanted versions of the oxford shoe. One (Jason) boasting a 2 ½ inch heel (my ideal heel hight) in tan and black, and the other (Hatchh) in the same colors but flat and featuring wing-tip details. On the website they come in grey, which is really nice, but these aren't in store. Baker's only offers the flat ones in whole sizes and I really need an 8.5, but they were pretty comfy. The leather could use some breaking in, but they weren't too snug in the toe-box. Both shoes were a reasonable $50.
Aldo
Crossgates Mall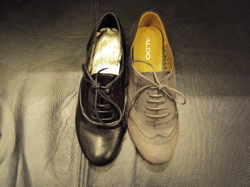 Aldo has had versions of the oxford/brouge since last summer, but their spring offerings have a few new styles. Most are around $50, which is kind of pricey for the more flimsy pairs, but a fair price for decent shoes. They have a LOT of styles to offer in the general avenue of 'oxford' so it's a good place to check out. I really liked the 'Madu' style--for it's polish and probably ability to hold up to wear--but the details on Mckew were also nice and seems a bit softer and thus less likely to rub. There are also some pairs that more closely resemble jazz shoes and are very soft--lovely for warmer weather perhaps, summery, but not so much for when it's wet. Once again, Aldo shoes come only in whole sizes but I found the eights to fit me alright, they seem to run big as a rule. The associate also offered some inserts for me to try, which was helpful. They have about a million oxford-inspired styles on their website as well, that can be ordered through the store.
DSW
Crossgates Mall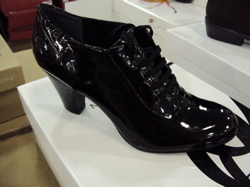 A few months ago DSW (and Macy's) carried a Nine West version of an oxford that had a short heel--the style is called 'Natane' and it came in black patent and regular leather. Macy's has none left, at either location, and DSW seems to only have the patent left. It's on sale at the moment, and will end up at about $42 after the additional discounts. It's a bit of a dressier option, and quite comfy (runs half a size big), and the patent is nice because it stands up to wear. The toe on these is slightly elongated, so they would be nice under trousers or jeans as well as with skirts.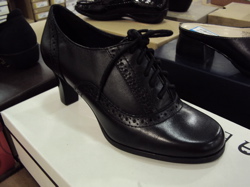 I found no flat options at DSW, but I did find a second heeled version. It's by Etienne Angier, and while the heel is slightly less attractive, I own this shoe and find it very, very comfy. It's also got those nice wing-tip details. These are slightly cheaper than the Nine West ones, but only by a few dollars. DSW also has some enviable $10 off coupons that go out occasionally, which would also save you some bucks.

Easy Spirit
Colonie Center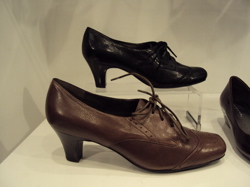 Once again, no flat options here, but a nice little heel on their oxford. It's not as substantial as some of the others, but the shoe itself is quite comfortable. The style is called 'Adeona', has wing-tip details, and a nice roomy toe box (without being hideous). I quite liked these--they'd also be nice either under pants or with skirts, and they have a nice old-timey turn-of-the-century feel (in a good way, I think) that is really appealing. They're $79, steeper than the other options, but they're softer and a bit more designed for comfort. This is also one of the few styles that I found in a nice, rich brown color as opposed to a lighter tan.

Urban Outfitters
Yeah, we don't have one. But if you feel like taking a trip to Northampton, the UO location there might have some of the pairs they've got on their website. They have a whole bunch of styles at a wide range of prices (I really like the spectator-inspired ones). If it's your main reason for traveling though, you might want to call first to see what the current selection is like.

Hi there. Comments have been closed for this item. Still have something to say? Contact us.